26 Aug
Another game, another powerful message. This was a level up from the victory away to Newcastle, but the storyline was much the same: City were nowhere near their best yet still eased to the three points against a dangerous opposition.
The scoreline was arguably more impressive than the performance on Monday night, but with this being the second game of the season and with a handful of players still to come into the first choice starting XI, it is all promising from a City perspective. That we are capable of such an efficient performance despite being a fair way from peak form says plenty about the enduring quality and depth of the squad and bodes very well once match sharpness is regained and our attacking fluency returns.
Although Liverpool have lost their key spark in Luis Suarez they do possess a talented squad, one which may not challenge again for the title, but will be competing for a place in the top four come the end of the campaign. And yet they looked fairly ordinary at the Etihad, a flicker of movement from Raheem Sterling or Daniel Sturridge rare frissons of danger in a bland display. They passed the ball crisply in the first half but there was no tangible threat. It was pretty football, but football lacking in penetration.
That cutting edge, or lack of it, was the major difference between the sides. City were sloppy before the break, the flowing rhythm we have come to expect at home absent as David Silva floated between the lines and Samir Nasri prodded and probed, but without any real end product. Then, as half-time loomed into view, Stevan Jovetic showed his sharpness to anticipate a bouncing ball, pounced on a moment's hesitation from Liverpool's backline and emphatically thumped the ball home. It was clinical. And it was just what Jovetic needed.
After such an uplifting pre-season, Jovetic had appeared frenetic last weekend at St James' Park. He seemed over-eager to prove a point, snatching at efforts and lacking the composure that was in evidence in a number of friendlies. His first goal last night would have relaxed him. From then on, he started to influence proceedings, dropping into midfield to help control the game, drifting around to pose problems all over the pitch and bursting into the box to support Edin Dzeko. After a delightful flick round the corner to Nasri, he was on the end of the Frenchman's cross to drive home and double our advantage. Jovetic will improve even further as he relaxes into his role in the side, but what we saw on Monday, just as in pre-season and in his sporadic appearances last season, was a seriously talented footballer who will add genuine quality to the squad.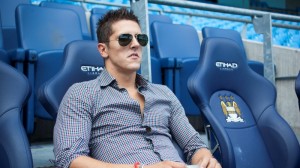 While Jovetic may be like a new signing after his injury troubles over the past twelve months, one genuine summer addition produced another dominant display further back. Following on from his man of the match display at Newcastle, Fernando again highlighted just what an astute player he is, performing his job with the minimum of fuss and allowing his more gifted teammates to express themselves higher up the pitch. He protected the back four superbly, covering gaps between centre-backs, anticipating Liverpool's attempts to play through the midfield and snuffing them out quickly. On the ball, too, he's very comfortable, happy to receive possession under pressure and play his way out from deeper areas.
I felt before the game that Pellegrini should have included Fernandinho as a third midfielder so as to make sure we weren't overrun in the centre, but Fernando's energy and appetite to close down, allied by great work from Silva, Nasri and Jovetic, meant that we were comfortable in midfield and still retained an extra option in attack. It was a positive selection and one that paid dividends.
Sergio Aguero wrapped up the victory moments after being introduced from the bench and although Liverpool grabbed a late consolation, the victory was routine. City didn't sparkle consistently, but this was a professional performance and one which sends an authoritative reminder to our rivals at the top of the table. Underway last weekend, the title charge gathered a little steam.