18 Aug
This was a message from City to their rivals. It didn't take the form, as so often was the case last season, of thrilling attacking football, of waves of blue shirts pouring forward, of a mountain of goals. It was rather more subtle yet equally as powerful.
Away from home, at an atmospheric St. James' Park and against an opponent who, whilst not taking their place in the top bracket of the English game, will cause some good sides plenty of problems this season, this was a reassuringly professional display from Manuel Pellegrini's team. Key players were missing, many more had barely featured in pre-season and were thrown straight into the intensity of competitive action and yet, despite not playing with any consistent fluency, this was a thoroughly impressive visit to the North East. City's title rivals will have watched proceedings and taken note.
Under such scrutiny, it was the solidity which was so admirable. In defence, there was a left-back playing at right-back, two centre-backs who had only just returned to training following the World Cup and protecting them was a gangly debutant. It made no difference. Gael Clichy curtailed his attacking ambitions to construct a barrier on the right, Vincent Kompany and Martin Demichelis looked as assured as they had done at the end of last season and Fernando, one of two summer arrivals from Porto, shone in a restricting role.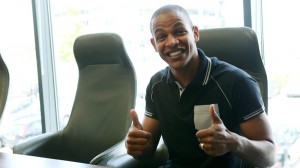 City's search for a top class defensive midfielder has gone full circle in recent years. Nigel De Jong was strong in the tackle but limited in possession, so he was jettisoned in favour of Gareth Barry. He, in turn, was excellent on the ball and read the game perfectly but was lacking the mobility that Pellegrini demanded from his midfielders. Therefore, in came Fernandinho's dynamism and boundless energy, yet he is not naturally defensively minded and thus the search was on during this transfer window for a crunching holding midfielder. Fernando looks to be the answer.
It is, of course, far too early to make a definitive judgement on a player after just one meaningful game, but the signs on Sunday were hugely promising. He seemed content to sit deep, protect the back four and allow the more gifted players to drift forward and create chances. He showed a fine awareness to cover for Aleks Kolarov when the Serb bombed down the left, displayed his instinct to react to danger when making a last-ditch block to deny Perez, and there were a couple of examples of why he acquired the nickname 'Octopus' in Portugal for his ability to wrap his legs around opponents as he dispossesses them. He seemed comfortable on the ball, kept play simple and slotted in seamlessly to the midfield. More of the same please, Fernando!
Further forward, Edin Dzeko caught the eye with a far more complete performance than we've often seen from him. His delightful backheel to release David Silva for the opening goal was an eye-catching highlight but arguably more pleasing was the consistency of his hold-up play, bringing the ball down sharply and encouraging others to join him in attacks. With Sergio Aguero injury-prone and with Alvaro Negredo on the sidelines for the next couple of months, much of the striking onus will be on Dzeko and this performance hinted at the acceptance of greater responsibility.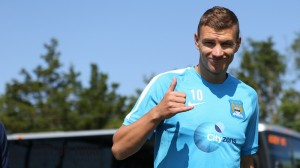 The other striker selected on Sunday was Stevan Jovetic, the star performer in pre-season. After a debut campaign tormented by injury problems, he benefited from a break over the summer, returned to training determined to stay fit and he sparkled on City's tour of the USA. Yesterday, however, for all his endeavour and application, it didn't quite pay off for him. A personal feeling is that he was trying too hard. Perhaps he felt he had a point to prove after spending much of last season in the physio's room, but he seemed nervy when presented with a chance. He was lively around the box and that certainly bodes well, but there were occasions when he tried to do too much and wasted an opportunity. Should he open his goalscoring account for the campaign fairly soon, he may well settle down and relax into his role. He has all the ability needed to be a huge success at the club.
And that was that. Three points secured, the battle to retain the Premier League title underway and an authoritative message sent to our rivals.