14 Apr
It's the hope that kills you.
Not for a long time have I walked away from a stadium feeling so empty, so drained, so deflated. This wasn't just a loss, nor merely one in an important game, but it was a loss that felt crushing. The title race is now out of our hands, our destiny lies partly with others and that absence of control, that sentiment of helplessness is what is so galling.
The despondency at half-time, of fans solemnly shaking their heads but unable to express their true feelings, had given way to fleeting ecstasy. A resurgence of hope owing to a comeback of character – in direct contrast to the first-half lethargy - had filled City supporters with positivity, with optimism, with hope. And then came the decisive blow. Quick. Painful. Stinging. Perhaps not quite terminal, but this late, self-inflicted loss is one laden with significance.
It would be easy to blame the referee. Mark Clattenburg should have awarded a penalty for a foul on Edin Dzeko, another for when Martin Skrtel decided to turn his hand to volleyball inside the area and the petulant Luis Suarez should have received a second yellow card for diving. Yet that slightly misses the point. This was an occasion when two thrilling sides came face to face in a pulsating affair and what ensued was surely captivating for the neutral. For the travelling City contingent, the overwhelming notion of pure deflation at the final whistle told a rather different story.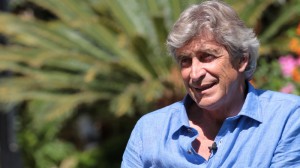 It's hard to fathom the performance in the first half. That the home side would have been intent on an effervescent start, full of purpose, relentless pressing and attacking fervour, was not hard to anticipate, yet we conveyed the impression of being woefully unprepared. Against their speed and constant whirl of movement, we were static and tepid. Our display before the interval was characterised by fear. Liverpool were fearless.
And then came the turnaround, bringing with it fresh belief. James Milner was instrumental, David Silva escaped from the shadows to occupy a position of controlled leadership and we had our hosts worried. In that spell in the second half, all our fighting qualities of spirit and togetherness were manifest. Bouncing back against a sea of Anfield-inspired aggression, we had tamed Liverpool, stamped our authority and ability on the game and there was only likely to be one winner. Or so we thought.
Then came the fatal blow. Again, it would be easy to single out Vincent Kompany and use him as the scapegoat for the defeat. His error, such a basic, avoidable mistake, was devastating but it doesn't feel the right time to apportion blame on individuals, especially not our inspirational captain. His injury hindered him all afternoon and although it is no excuse in any way for his skewed clearance for Liverpool's winner, that he even played is testament to his character and, frankly, importance to the side. He completed the whole game, despite such severe doubts about his fitness that Joleon Lescott was being prepared before the match for an introduction within the opening five minutes, and it pains that Kompany's error was the decisive action. He'll bounce back. City will bounce back.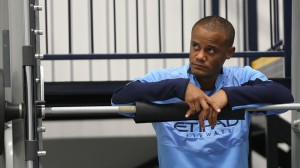 There were positives to take, of course, namely James Milner's key contribution from the bench and Martin Demichelis's assured handling of Liverpool's frontline but even the day after, the lingering emotion is one of heartbreak. This was a chance to drive ahead and establish authority in the race for silverware, but that has now gone.
The battle for the title is not over – far from it, in fact. I remain convinced there is a twist, turn and an unexpected result or two still to come, but whether City are in a position to capitalise on any upset remains to be seen. We have shown in the past how to fight back from what seemed an impossible situation, we have shown resilience before in the face of adversity and that has to be the aim once more, but this defeat may just be one dagger in the heart too many. We'll retain faint hope and we shall, as the song proudly demonstrates, "fight 'till the end" but it's hard to escape the emptiness inflicted by this result.