17 Mar
Ahead of the UEFA Youth League quarter-final against Benfica on Tuesday, Esporte Interativo, a hugely popular Brazilian TV channel, conducted an interview with Manchester City's talented Academy prospect, Marcos 'Rony' Lopes. You can read the interview in Portuguese here, but thanks to Esporte Interativo and in particular Otavio Rodrigues, the journalist who spoke with Lopes, I was given to permission to translate the interview and publish it on this blog. Enjoy!
Esporte Interativo: Do you dream of competing in the 2016 Olympics in Rio de Janeiro?
Rony Lopes: Naturally, yes. It would be a very proud moment and certainly an important marker in my career. I'm sure it's going to be a world-class event which will help project the name of Brazil throughout the world. But more than just participating, to win an Olympic gold medal would be a dream come true.
EI: You didn't end up being selected in the Capital One Cup final against Sunderland, but you were with the team. What was the expectation and what was it like to win your first trophy as a professional?
RL: Yes, it was a unique moment. Mr Pellegrini was correct with the squad and he explained that, unfortunately, we couldn't all play in the final but that we had all played a part in getting to Wembley. The worst thing about supporting from off the pitch is the suffering, the wish to help your teammates and to run after the ball to score a goal. The party after the final was fantastic, we all felt we had contributed to the first title of the season and I hope that it will act as a push to more successes until May.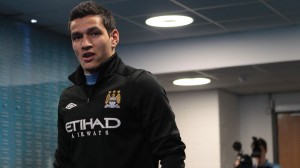 EI: In the UEFA Youth League you have just helped Patrick Vieira, coach of the youth team at City, to progress to the next stage. There are only three rounds left of that competition. Are you confident of winning it?
RL: Yes, now we're in the quarter-finals and we are dreaming about the trophy. Mr Vieira's work has been impressive, our team plays a very nice style of football and above all, we're united as a group, with lots of companionship and teamwork. We know that in front of us we have some tough steps to climb, beginning with the game against Benfica, but our objective is to win the competition.
EI: What will it be like to play against Benfica? They are your former club, the team of your heart, the place where you have lots of good friends…
RL: I admit that I always feel butterflies in my stomach when I think about this because it's going to be very special for me. It's true that both my father and I have talked many times about the possibility that the day would come when I play against Benfica, but we never thought that it would be in the such near future. Still, there is the fact that I'm going to play against my old team, against players with whom I've shared a dressing room for many years. It's going to be very special to play against my friends for the first time and it will be an increased responsibility because I'm one of City's captains.
EI: Are you ready for the challenge?
RL: Yes, I'm a professional and of course I'm ready – as a matter of fact, I can't wait for the day. I'm sure that it will be a great game, Benfica have a lot of quality, they have had an exemplary passage in this season's UEFA Youth League and we're going to meet one of the strongest contenders for the title. In the end, may the best team win and I hope that the winner of the tournament comes from the game between Manchester City and Benfica.
Thanks once again to Esporte Interativo and Otavio Rodrigues for allowing me to translate their interview, and feel free to leave a comment below about anything Rony has said!