23 Feb
Patience, it is claimed, is a virtue. Fortunately for City, in the face of understandable lethargy on Saturday, the players displayed just about enough of that important characteristic to grind down a compact Stoke defence and wriggle to a key victory. It wasn't pretty for spells but perseverance paid off in the end as Yaya Touré showed nimble feet to open up his body and guide the ball home for a precious three points. Here are five thoughts on the game.
The Reverse of Barcelona
In many ways, this was the flip side of last Tuesday's coin. Then, against the highly-skilled Spanish operators, Manuel Pellegrini had instructed his side to contain. Should we encounter the opportunity to launch a counter-attack, great, but the primary aim was to sit deep, remain organised and frustrate. And, until Martin Demichelis's sending off, the tactic had worked perfectly.
Stoke adopted a similar mindset. Apart from one Charlie Adam shot in the first half which brought a fine stop from the otherwise unemployed Joe Hart, they dropped into defensive banks of four and five, shut down the space in midfield and dared us to produce a moment of ingenuity to create the breakthrough. That moment came eventually but until Yaya's strike we hadn't forced too much of an issue.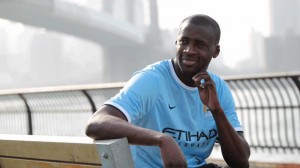 Tempo
A large part of the reason as to why we seemed unable to conjure up a piece of inspiration was because of the soporific tempo at which we played. Naturally, with Stoke showing such limited attacking intent, City controlled possession but far too much of that was unthreatening. As with Barcelona in midweek, especially during the first half, all that domination of the ball didn't lead to chances. It was relatively comfortable for the visitors.
Much of our play was sideways and static. At our best, there is an electrifying fluidity with which we move the ball. Bodies buzz around, darting here and there, drifting to create space and manoeuvre the opposition, but all those enchanting features of our play were absent for lengthy periods on Saturday. Gone was the pulsating tempo we have so enjoyed this season and in its place came a flatness that engulfed the ground.
Fatigue
That laboured nature, although frustrating, was understandable. This was the Blues' 25th game over the past three months and coming so soon after the Barcelona tie had no doubt drained the players physically and mentally, it was only natural there would be a few weary limbs on show. It is unreasonable to expect a dynamism and vibrancy to characterise every game. Perhaps, in hindsight, Manuel Pellegrini may have rotated to a greater degree in order to maintain an aspect of freshness to the team but – drifting into football parlance favoured by managers and players – we got the job done and that's the most important outcome.
Stevan Jovetic
The one major negative from the game was yet another injury suffered by Jovetic. Having had such a troubled first half of the season on the injury table, he has returned to the side over the past month and produced a series of tantalising displays. Operating just behind the striker, he has a feisty, determined side to match his trickiness and invention, and he has offered glimpses of his potential.
Saturday, however, was the latest disappointment. Introduced early in the second half as Pellegrini looked to the bench for inspiration, he appeared for only thirteen minutes before dejectedly making his way down the tunnel. Early estimates hinted at a hamstring injury, but the manager seemed to assuage those fears after the game by explaining the problem was cramp. We can only hope it is nothing too serious as, irrespective of our need for a player of his ilk as we fight on four fronts, it is time Jovetic had some luck and remained clear of fitness issues.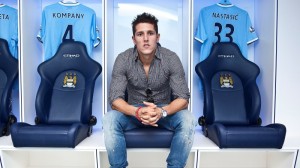 Edin Dzeko
Oh, Edin. What a miss. What a humiliating, embarrassing miss. How he managed to scoop the ball away from goal from less than a yard out, with no goalkeeper or defender in sight, is a mystery but that moment merely typified his display. This was yet another uninspired, half-hearted Dzeko performance, complete with poor touch, poor vision and poor finishing. Technically, he is not good enough to play the one-touch, silky passing football our other attackers relish and it has been clear for a while he can be expected to jump ship over the summer. His supporters will always mention his goalscoring record – and, to be fair, it is a more than decent one – but his overall contribution has always been lacking.
With Alvaro Negredo not fully fit after his shoulder problems, Jovetic now set for a spell on the sidelines and Dzeko as disinterested as ever, Sergio Aguero's return can not come soon enough!