19 Feb
It's hard to put an exact finger on the lingering emotion following last night's defeat. Certainly, there is a measure of pride at how City performed against one of the best sides in the world and how we acquitted ourselves with resilience and spirit, but there is also an element of resignation and emptiness after Dani Alves's late, late goal broke our barriers and killed the tie. Had the difference remained just one, we would have travelled to Spain with a degree of hope that the loss could be overturned but that crucial second goal has resulted in a deflated acceptance of our likely fate.
And yet, despite the defeat, it's hard to be overly negative. Challenged by the elegance of Barcelona in our first Champions League knockout tie, this was the dream encounter we had been longing for and, for the most part, the players responded with an assured solidity that bodes well. Supporters know that this is the first of what will become a yearly thrill and there were plenty of signs that this is a level at which we deserve to be playing. Here are five thoughts on the game.
Pellegrini's Tactics
On a night when we succumbed at home, it would be easy to blame the manager and his tactics, yet I felt Pellegrini was largely spot on with the way in which he deployed his players. As expected, he adopted a pragmatic approach, including an extra midfielder and employing just one striker, with David Silva drifting around as a link between the lines. The surprise in the starting line-up was Aleks Kolarov on the left of midfield, just in front of Gael Clichy, but the Chilean's tactics and the restrictive mindset of the team, although a contrast to what we have become accustomed this season, were necessary.
The doubling up on the left nullified the threat of the onrushing Dani Alves and that forced the visitors to attack more centrally, something that worked to City's strengths. In those areas, Yaya Touré and Fernandinho were more restrained than usual, sitting deeper and only pressing Barcelona when they approached our final third, and the central defensive pairing of Vincent Kompany and Martin Demichelis were compact, organised and effective. At times, it wasn't pretty but against a side who control the game so effortlessly, that grit and determination are essential.
It took half an hour before the visitors had their first shot, a sign of how well the Blues had done to restrict the Spaniards. For all their aesthetically pleasing possession, there was never the impression that Barcelona were hurting City. It was attractive domination but there was an absence of penetration, and for that, Pellegrini deserves credit. The shape of City's back four, with another wall of shirts in front of them, was near-perfect for an hour and it was only late on, as fatigue crept in, that we became a touch more rattled.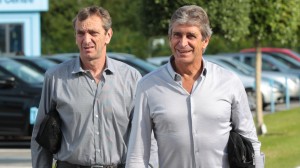 Martin Demichelis
Often, it is far too simplistic to highlight a sending off as the moment on which an encounter turned. Last night, however, it would be perfectly accurate to say just that. As touched on above, the solidity of the team had worked to thwart Barcelona's endeavours but in one moment, the complexion of not just the game, but the tie as a whole, changed.
Demichelis was the culprit in terms of making the challenge and receiving a red card, and that will suit the foolish agenda of those who use the Argentine as a repeated scapegoat, but it is naïve to pin the blame solely on him. As the ball was played forward to Lionel Messi, Demichelis's positioning has been questioned, but it was Kompany who was deeper than the rest of the back four, leaving his partner with too much to do to catch Messi. And then came the last-ditch desperate lunge.
The tackle had to be made – in the fraction of a section which Demichelis had to make up his mind, every footballer's instinct, especially that of a defender, would be to attempt to reach the ball – but unfortunately for City, he was just half a second late and the sending off was inevitable. Whilst contact started outside the box, it continued inside and that gives justification for the referee's award of a penalty and Messi did the rest. Up until that point, what is irrefutable is how impressive Demichelis had been, snuffing out danger thanks to his ability to anticipate play. His inclusion had been a cause for concern but he had displayed all his experience and defensive guile to avert any problems. How quickly one's fortunes can change…
After The Red Card
The decision to reduce City to ten men was followed by an increase in the pressure Barcelona exerted. As they moved the ball quicker and attacked with more width to stretch weary legs, Dani Alves found space in abundance and Messi, hitherto kept quiet by Kompany's and Demichelis's intelligent marking, grew in influence. Come the final ten minutes, City were exhausted. Fernandinho, rushed back after injury, couldn't quite summon the energy to close down as eagerly as previously, Clichy was overwhelmed on the left and it was from that position that the second goal – the killer goal - developed. Ruthlessly, Barcelona had taken advantage of the situation and ground us down. It came late, but their reward arrived.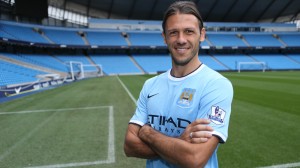 Vincent Kompany
From a City perspective the standout performer was, as is often the case, our irrepressible captain. Against a glut of outrageously talented stars, he elevated himself to lead our resistance. Whether on the ground, in the air, centrally, covering out wide or stepping forward to pinch possession, he was imperious. City's defensive barrier was breached twice, but had Kompany not produced a titanic display it could have been plenty more.
The Next Leg
Is there any hope for the Blues in the return leg? Well, had we managed to keep the deficit to one, then thoughts would have turned to an improbable, but not impossible, comeback. Now, even though Sergio Aguero will be available, it feels as if the tie is over. Pellegrini faces the dilemma of whether to adopt similar constraining tactics to keep Barcelona at bay for a while and then attack late on, or to go at them from the start and bow out, or advance, in an attacking frenzy. We'll find out soon enough.