28 Oct
Sickening. The defeat itself wasn't a particularly tough one to take, but the manner of it, with such a basic, avoidable mistake, was crushing. It wasn't what we deserved but once again, an individual error was punished and we came away with nothing from our travels. Nothing but immediate deflation and despondency, yet knowledge that we played well and were worthy of a share of the spoils.
This was an efficient City away performance, a touch shaky at times defensively but without our inspirational captain and faced with the shimmying movement and undoubted quality of the opposition that was to be expected, but there was plenty of character and determination. Tactically sound and with enough glimpses going forward, a point would have been the fair outcome, but then out rushed Joe Hart and the inevitable blooper followed. This was a good game of measured and occasionally dynamic football between two very good teams, but it was settled by one moment of madness, one moment which changed all emotions and broke our hearts.
Simply put, the goal was Hart's fault. Fernando Torres's pace and direct approach had caused problems throughout but as the ball bounced over him and Matija Nastasic, the defender was in complete control of the situation. Had Hart stayed in his six-yard box, he would have collected the Serb's header comfortably and City would have gained the point we merited. And yet, not for the first time this season, Hart needlessly rushed out. He may have communicated that to Nastasic, but in the heat of the battle, with a simple header back to his goalkeeper the obvious option, the defender did nothing wrong.
The question has to be asked as to why Hart made his decision to charge out of his area to try to take command of the situation. Did he lack confidence in the defence that had been shaky in Vincent Kompany's absence? Did he misjudge Nastasic's positioning? Did he feel the need to silence his critics by making a decisive move? We'll probably never find out but it's now clear that previous errors are affecting Hart and the time to take him out of the firing line is creeping closer. Costel Pantilimon is a very capable back-up and will feature on Wednesday in the Capital One Cup away to Newcastle, but Manuel Pellegrini will then have a major selection dilemma ahead of Norwich's visit at the weekend. Does he retain faith with Hart, a top class 'keeper who is making mistakes with alarming frequency, or does he opt for Pantilimon? My gut instinct says the former, though one more blooper and I think that will be that.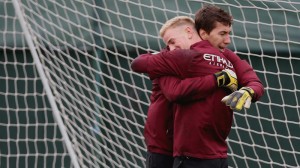 Up until the error, City had more than matched the home side. Pellegrini chose to swarm the midfield, deploying Yaya Touré in his more advanced role and the tactics, largely, worked to nullify Chelsea's threat. Our defence looked uncomfortable at times but grew more composed, and while Sergio Aguero was a touch isolated, especially in the first half, the extra body in the centre enabled us to control possession for lengthy periods. These were the tactics the manager should have used against Bayern Munich to make us that bit harder to play through, but at least he is learning and adapting. Were it not for Hart's idiocy, praise would have been directed towards Pellegrini for his pragmatism in altering the system and for the way in which we were committed, organised and showed patches of our ability in attack.
As it was, it took one second for all our efforts to be wasted but while post-match feelings were wholly negative, there were enough promising signs to provide confidence heading forward. David Silva was a standout performer, Fernandinho displayed his endeavour and quality, while Sergio Aguero highlighted once again what a thrill he is to observe. It's just a great shame that one split-second of recklessness diverts the focus.