26 Aug
After elation came deflation.
Following such an enthralling, captivating and uplifting performance against Newcastle, this was back to the frustrating predictability and lethargy of last season. Last Monday night, we were fabulous, the tempo mesmeric and oozing positivity. Yesterday, we were flat, the tempo painfully laboured and oozing disinterest. The contrast couldn't have been more marked.
Of course, it is easy to overreact to a defeat, especially one that came the game after arguably one of the best City displays in recent years, but even if the quality of football on show during the first match of the season is unlikely to be matched too often, there is an expectation that the players will show heart and character. Both of those elements, along with the likes of purpose and urgency, were woefully absent against Cardiff.
It is not the defeat which hurts the most, but the manner of it. If we had fought valiantly and created chances, that wouldn't have been so hard to take. Instead, we repeated the mistakes of last season, of those dour away showings whereby we controlled possession yet lacked even the hint of penetration. Learning from those errors is paramount and yesterday suggested we aren't doing so.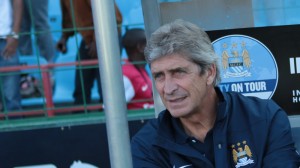 On frequent occasions during the previous campaign, we lamented the lack of tempo when trying to break down organised defences. When a side is resilient and committed at the back, as Cardiff were, then you need that ounce of guile to upset them, variety in order to keep them guessing and players who are intent on making the breakthrough, yet we struggled regularly last year to do just that and we suffered the same fate yesterday. Too often, we were narrow, ponderous and lacking that ingenuity in the final third.
Without wishing to single anyone out – this was the fault of all our attackers, none of whom were anywhere near their best – Samir Nasri's cameo as a substitute was symptomatic of our approach. He was lively when introduced against Newcastle in the last match, but it's easy to make a positive impression when your team is 3-0 up and cruising. The challenge for him, and where he almost always fails, is to influence a game when needed. Simply put, he doesn't. For a creative midfielder, he provides a negligible amount of cunning.
All too regularly, Nasri plays it safe. He keeps it simple and unthreatening. He doesn't try to split the opposition's defence, or run at them with his dribbling ability. For someone with such natural talent, it's perplexing to see him shirk creative responsibility. He has the potential to cause problems yet seems content to sit on the fringes. It's time for him to take a step up, show some courage and really take the game to our opponents.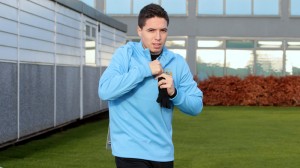 Defensively, individual mistakes cost us and gifted Cardiff the victory. It isn't that the home side played particularly well – they defended solidly but didn't pose anything approaching a constant threat to our backline – but they took advantage from set-pieces and made us pay for our sloppiness. Pablo Zabaleta was the guilty party twice, switching off from a brace of corners and allowing Frazier Campbell to bundle home a pair of goals. It was uncharacteristic from last season's player of the year and we were punished for it. Nor will the trio of Gael Clichy, Yaya Touré and Joe Hart be pleased with their roles in Cardiff's goals. Too many of our players had off-days in Wales and we can't afford that.
The team and manager will move on and a home match against Hull seems as good an opportunity as any to showcase our unquestionable quality, but the players will need to display greater levels of passion and intensity than we saw on Sunday. Onwards we go, hopefully learning our lessons from this disappointing defeat.