20 Aug
Wow! What a scintillating start to the season. It was pulsating, it was enthralling, it was captivating. And the contrast with the turgid, insipid and lethargic nature of last season could not have been more marked. It was, in simple terms, fun.
Of course, it is easy to overreact after just one game. The players were fresh, raring to go and eager to impress a new manager but it was impossible to watch that City performance and not be overwhelmed with a sense of excitement. It was just glorious, full of pace, purpose and intensity, of all-action endeavour and played at a mesmerising tempo.
I can't imagine for a moment we will see too many displays like that, characterised by such frenetic pressing and energy, but it was a tantalising reminder of what this squad can produce and of the quality we possess, and should we retain the hunger and focus that was in evidence throughout last night, we'll be a force to be reckoned with.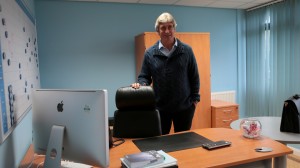 From such a delightful team performance, it's almost unfair to single out individuals but Jesus Navas was sublime, his terrifying pace combined with intelligent movement. It was a debut to remember and one to intrigue the fans. We all knew about his electric bursts down the wing, but he had more of a floating role in the first half, drifting centrally to get involved and linking up effortlessly with those around him.
He shifted out wide after the break, tormenting Newcastle's poor left-back with trickery, quick feet and a stream of teasing crosses into the middle. He may frustrate at times over the season – all wingers who repeatedly take on their man invariably do – but he provides everything we lacked last season and is the most eye-catching new arrival.
Further forward was Edin Dzeko, a reborn figure now he has a manager who believes in him. He has been clinical in pre-season and although he wasted a few excellent chances against Newcastle, it was a far more rounded showing. He showed a willingness to be on the end of crosses, an awareness of when to hold on to the ball and when to lay it off quickly and he conveyed the impression of someone happy to be playing football. The disgruntled lump of the previous campaign had disappeared.
To cast a cynical glance over proceedings, it says plenty about how lazy he was last season that a whole-hearted performance where he tries as hard as the rest of the team is regarded as excellent, but if he can continue to show this level of workrate and desire, he could be a handful. Time will tell.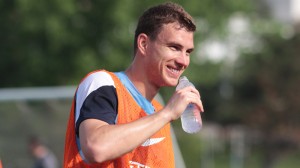 Throughout the side, however, poured quality and it can only leave us gasping for more. At the risk of getting carried away, the team seemed liberated. They played with freedom, able to express themselves and what a show we were treated to. The movement of the front six was constant and sublime, the interplay so natural and the four goals we scored in no way flattered us. It was a glimpse into our potential. Bring on the next match!