20 May
A disappointing end to a disappointing season. With no pressure on either side, the opportunity was there for this to be an enthralling encounter, released from the shackles of fighting for positions, sweeping forward time after time in a show of attacking intent. Instead, it was a pitiful defensive showing from City and Norwich's effervescence secured them a deserved victory.
The past few weeks have dragged on from a Blue perspective, ever since the title was effectively decided months ago, and the last couple of months have, in a sense, felt like a chore. There is a feeling of weariness than has enveloped the club recently and a break, during which everyone gets the chance to go away, relax and then come back refreshed for next season, is desperately needed. The challenge is there to reclaim the Premier League title and with a new manager soon to be appointed and with a summer of changes to the squad, it could be exciting. For now, however, it is a relief the season is over.
It is hard to be overly critical after the performance against Norwich. The players, as Brian Kidd confirmed, were physically and mentally tired, and it showed. There was a lethargy about the display, a general sense of fatigue about all we did and that was only punctuated in brief bursts of energy from Carlos Tévez and Jack Rodwell. The defending was abysmal, a lack of concentration costing us dear and it was an amateurish end to a season in which we have failed drastically to reach the standards demanded.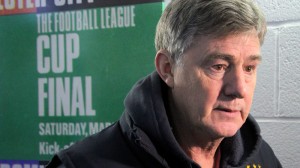 In terms of positives, the standout one was the vibrancy, yet again, of Rodwell. He may have missed extended chunks of the season through injury but he has made a terrific impression when he has been given the chance. The regularity with which he bombs forward from midfield says everything about his drive and it was great to see him open his City account. He followed that up in the second half with a terrific strike, demonstrating his pace and composure, and they will be the first of many goals for the club. The necessity for him now to remain injury-free is obvious and if he can manage that, there have been plenty of signs he could be a key ingredient in this side.
Otherwise, it was a limp end to the campaign and it is a relief it's all over for this year. In contrast to the drama and suspense of last season, this has been a campaign of despondency and underachievement. We'll be back next year, revitalised and eager to learn from this experience, but the time is right now for a break.