10 Feb
An embarrassing, spineless and inept performance. The title race is over: our hopes of following up last season's joyous success have been ended, not by yesterday's alarmingly abject display, but by a season of underwhelming showings. This humiliation, a woeful all-round team performance that suggested the players had already given up, may be the nadir of a disappointing campaign, but whilst it may hurt, the feeling of despondency isn't quite as strong as it was after the capitulation against Arsenal last year.
That defeat and the apparent end to our ambitions came suddenly; this time around, it has been slowly creeping up on us. We have shown admirable grit and fighting spirit over the course of the campaign but that won't win you title. It may keep you in with a shout but at some point, you have to click. We haven't and we've been made to pay.
Yesterday was the lowest moment of the season, perhaps the worst performance under Roberto Mancini and the scoreline arguably flattered us. Domestically, I can't remember the last time a side dominated against us for 90 minutes, but Southampton were superb. They closed down in groups, had a vibrancy and tempo to their passing, and attacked and defended in numbers. It was a scintillating, near-perfect display from them, the only disappointment perhaps being their profligacy in front of goal, but their effervescence and attitude were in direct contrast to our lethargy and lack of interest.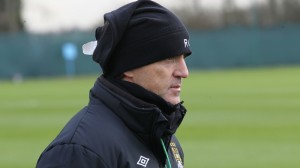 We produced a team performance that was devoid of any positives, complete with individual gaffes that gifted the home side two goals. Never have I seen such a pathetic reaction to conceding, the total absence of resilience when Gareth Barry scored his own goal concerning in the extreme. Even when we have played poorly in the past, we have created chances and looked like scoring. Yesterday, we could have played for another couple of hours and struggled to break Southampton down.
Barry was perhaps the worst performer, but it was a close run thing. Only James Milner and, in the later stages, Gael Clichy, showed any sort of desire. They at least attempted to close down the opposition, but otherwise it was a shambles. All of Southampton's goals were preventable which was the most frustrating element. Barry needlessly attempted to dribble out of defence in the build-up to the first goal and Javi Garcia's positioning in the moments after that mistake was laughable, standing three yards deeper than the rest of the defence and not knowing whether to play offside or track his runner.
It was symptomatic of his performance at centre-back – he is a painfully slow midfielder whose positional sense is suspect to say the least, so to move him to defence against a side full of pace and movement was a catastrophe waiting to happen. For the second goal, Gael Clichy was initially turned far too easily by Rickie Lambert before Hart's inexplicable fumble. And then Barry scored an own-goal that will be shown on blooper DVD's for years to come.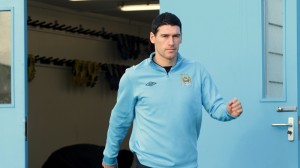 It was an off-night for all, not least Roberto Mancini, whose decisions, both before and during the game, were bizarre. The omission of James Milner in favour of Samir Nasri was baffling, the Frenchman once again contributing nothing, whilst selecting Garcia at centre-back when Kolo Touré was on the bench was madness. Then, to replace David Silva when we needed goals was unfathomable. The switch to 3-5-2 was understandable but to take off our most creative outlet, even if he wasn't at his most threatening, was an odd choice. And the continued reluctance to give Scott Sinclair an opportunity is extremely strange.
The only positive I can think of, and it's a minor one, is that, with our hopes of retaining the title gone, the players can be free from nerves and pressure and start to express themselves. If they can recover a sense of enjoyment, then hopefully we will see some freedom in the way they play from now until the end of the season. The league may have escaped our grasp but we face a challenge to finish in second and finding that motivation to continue plugging away will be tough. But the squad is full of winners, full of players who should realise they have let themselves down and want to put matters right, and it is to be hoped that we see the real City from now on. Yesterday was the exact opposite and we never want to see that again.