4 Feb
A pulsating encounter, four excellent goals and a bizarre post-match mix of emotions. On the basis of City's laboured performance in contrast to Liverpool's vibrancy, this was a point gained but in the wider context of the race for the Premier League, there was huge disappointment and frustration. It may not quite be time to give up total hope of catching Manchester United, but the recent displays of both sides would suggest that point will arrive shortly.
For the second time this season, we were largely outplayed by an effervescent Liverpool side full of purpose, pace and intent but we showed enough character to fight back for a share of the spoils. Sergio Aguero's audacious and quite sublime equaliser means we just about cling on to United's tails at the top of the table, but we will have to improve markedly if we are to chase them down. With the way United are playing and their vulnerability at the back, they will, hopefully, drop points at some stage but we are by no means looking likely to take advantage.
As for this game, it was a lacklustre City showing. There were fleeting moments of the quality we know courses through the squad but our performance was characterised by a sense of insipidness. Edin Dzeko scored a goal, his terrific movement enabling him to slot home, but his overall display conveyed disinterest. Javi Garcia, after a couple of promising showings, regressed alarmingly and even the normally assured Matija Nastasic looked ruffled.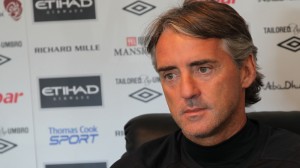 Whilst it may seem perhaps a touch churlish to criticise – it's worth remembering that apart from last season, this current campaign is City's best in Premier League history so far - it is concerning that we have consistently failed to produce anywhere near our enthralling peak. We're grinding out results rather than blowing sides away and whilst that battling spirit is to be admired, it's tough to see us winning the title without clicking into top gear.
For spells yesterday, most notably after Roberto Mancini changed to his often-criticised 3-5-2 formation, we looked threatening. It was a brave switch but it lead to us regaining the ascendancy, having a threat out wide and more sustained pressure. The manager's decision to then replace David Silva as we searched for an equaliser was a bizarre one, and even though we managed to find that goal through a moment of brilliance by Aguero, it's still hard to fathom that change. Silva may not have been at his best during the game but he possesses such immense quality and even though his touch wasn't quite there, he was still the most likely to find that defence-splitting pass.
The main controversy centred around Liverpool's equaliser and City's protests about the refereeing decision that preceded it. First of all, it was a clear foul on Edin Dzeko that Anthony Taylor inexplicably failed to penalise, but after that, bearing in mind it wasn't a head injury to the Bosnian, Liverpool were fully entitled to play on. Of course, most sides would have kicked the ball out of play due to sportsmanship, but the visitors, having just gone a goal behind, were never going to do that. It was their prerogative to continue playing, which they did. Once the free-kick was not awarded, Dzeko should have got to his feet and carried on, not continued sitting on the ground sulking. And then Javi Garcia should have cleared the ball instead of dillying and dallying. The referee made in an error in not initially awarding a free-kick but City seemed to switch off after that and were made to pay.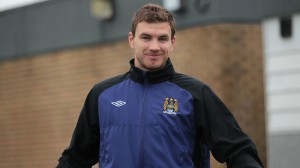 Opposition View: Liverpool were hugely impressive, their collective pressing forcing us in to errors and they had that one key ingredient we often lack: pace. Daniel Sturridge's movement and intelligence in drifting out to the left to exploit the space vacated by Pablo Zabaleta's frequent surges forward was excellent and he dragged Matija Nastasic out of position, creating more room for the likes of Luis Suarez in the middle. The visitors were incontestably the better side and deserved at least the point they earned, but they still looked a touch suspect at the back. There are promising signs that they are finally adapting to life under Brendan Rodgers and should they strengthen well in the summer, they could be a side to watch next season.
As for the Blues, there is a week's break before travelling to Southampton. That is a must-win game if we are to put any pressure on Manchester United in the title race. Mathematically, there is a still a chance to catch them, but playing the way we are, it's a long shot. We saw last season how there can be twists and turns towards the end of the campaign but we must improve drastically if we are to capitalise on any red blip.
The View From A Blue app is now available for iPhone, iPad and Android users. Featuring updates from the official MCFC website, BBC, Sky Sports, the Premier League, viewfromablue.com, Twitter, Facebook and YouTube, it is the must-have app for any Blue. Search for 'viewfromablue' or click here to download for iPhones and iPads, and here to download on the Android Market.