27 Jan
An excellent victory, demonstrating large amounts of battling spirit and enough dashes of quality going forward to deserve the win. It may not have been the prettiest 90 minutes to watch, but we matched Stoke's physicality and then imposed enough of our attacking flair to advance to the next round. It was an all-round superb team performance.
Pablo Zabaleta, the man who more than any other typifies the heart and desire fans love to see, scored the winning goal just minutes from the end to secure Roberto Mancini's first victory at the Britannia Stadium. The Argentinean, without doubt our best player throughout this campaign, received all the plaudits following the match, but two other players stood out for me.
The first was the much-maligned Javi Garcia. He's had a fairly woeful start to his City career, but yesterday produced a commanding and resolute display to suggest, perhaps for the first time, that he may blossom into something promising. He isn't blessed with pace but such was his reading of the game on Saturday that he didn't need to sprint around. His positional awareness was first-class, constantly picking up loose balls in midfield and managing to exert his authority on the game. Passing-wise, he could still show more intent and invention but faced with such a physical threat, he was hugely impressive.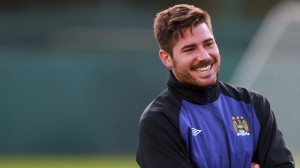 The other individual to catch my eye was less of a surprise, namely the majestic David Silva. Without Yaya Touré in the side, the Spaniard becomes the dominant personality, orchestrating our attacks with his movement, control and vision. He's given the freedom to roam around, popping up everywhere in search of the ball and looked at his creative best. He had a slightly slow start to the season but has hit peak form over the past month or so and is, by a distance, our most important player.
One other element which was particularly pleasing from yesterday was Roberto Mancini's tactical switches during the game. Forced into a change due to Vincent Kompany's injury, the manager opted to introduce Gael Clichy and revert to the much-maligned 3-5-2 formation. It was a potentially risky move, with both Clichy and Zabaleta in the back three against Stoke's aerial prowess, but it enabled us to control the midfield and push on.
Then, in the second half, when Mancini decided to really go for it, he brought on Sergio Aguero for Aleks Kolarov, switched back to a more comfortable 4-2-3-1 system and that provided us with a spark and balance to press forward. Aguero added pace and dynamism, Tévez buzzed around and it enabled Zabaleta to move to his marauding right-back role, from where he notched the winner. A special mention, too, for Joleon Lescott, who, in Kompany's absence, marshalled the defence superbly, taking on extra responsibility and oozing authority.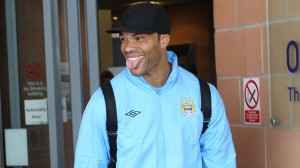 Opposition View: As we have become to expect from Stoke, they are effective but incredibly limited. There is no attempt to pass the ball quickly, no style in the side but they play to their strengths of hoofing the ball long and feeding off the second ball. However, with Lescott commanding and Kenwyne Jones anonymous, they had no outlet up front and offered very little attacking threat. Glen Whelan's tackle on Javi Garcia will hopefully be subject to a retrospective ban after Howard Webb missed the incident. It was a horrific, cowardly challenge, a running jump and two-footed stamp that the midfielder got away with.
As for the Blues, a trip to face QPR on Tuesday is next on the agenda as we look to pile the pressure on Manchester United at the top of the Premier League table. If we show the same togetherness and spirit as we did against Stoke, we should return home with all three points.
The View From A Blue app is now available for iPhone, iPad and Android users. Featuring updates from the official MCFC website, BBC, Sky Sports, the Premier League, viewfromablue.com, Twitter, Facebook and YouTube, it is the must-have app for any Blue. Search for 'viewfromablue' or click here to download for iPhones and iPads, and here to download on the Android Market.