25 Oct
This was a thoroughly disappointing night in the Champions League. And that is a phrase which has been repeated too many times now for comfort.
It's tough to know where to start when reviewing this game. Tactical incompetence, bizarre formation changes, a total lack of both passion and fight and yet, deep down, a realisation that we are going to struggle in the Champions League. It is a completely different proposition to the Premier League where we overwhelm sides with our quality, but what is perhaps most frustrating is that we are making the same errors as last season and in previous games this time around. Losing is not the hardest thing to take – we don't have a divine right to win every match – but not learning from erstwhile mistakes and not looking as if we will any time soon is the most concerning element.
Roberto Mancini's tactical decisions have been scrutinised in the wake of this desperately unhappy loss and rightly so. His record in European competitions isn't the best by any stretch but although achieving sustained domestic success is the priority, it would be pleasing to see some semblance of improvement in this competition.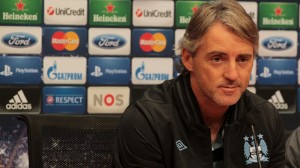 His starting eleven and subsequent 4-2-3-1 formation, with Sergio Aguero on the left on that attacking trio, had the feel of a situation where the manager had selected the team and only then considered which system he might like to use. Against the run of play, Samir Nasri opened the scoring with a clinically taken strike from City's first threatening attack and that prompted the first tactical switch of the night. One which was impossible to fathom.
Aguero joined Edin Dzeko up-front which was understandable enough, but behind them was a mass of confusion. Nasri was deployed on the left on a midfield four but didn't track back to help Gael Clichy and thus we were badly exposed down that side, whilst James Milner and Yaya Touré, both better and far more comfortable in a central position, took turns to operate on the right wing. It meant we lost shape and control of midfield and with Ajax's movement and technical ability causing us problems, their equaliser on the stroke of half-time was nothing other than what they deserved.
Our brightest spell of the match was the first ten minutes after the break when we came out with a seemingly renewed purpose and vigour but a simple and hugely frustrating goal to concede from a corner set us back. Zonal marking has been blamed for the ease with which the hosts scored, but it was Joleon Lescott's reluctance to attack the ball, rather than the defensive system, which was at fault. The absence of men on the posts was surprising, but falling behind then meant Mancini adopted the 3-5-2 formation to much ridicule.
First things first: I understand the benefits of the system. If worked well, as it did in pre-season and then again in the Community Shield against Chelsea, we look threatening. It adds width to our play, it means we control the central area and it enables more attackers to get into the box to hopefully meet crosses. However, on every occasion we have used the system during the season, it has been chaotic. No-one quite seems to know what role to play and changing partway through the second half just conveyed the impression of confusion. For Mancini's, and the team's, sake it might just be better for the moment to forget a new formation and to revert back to last season's successful formula.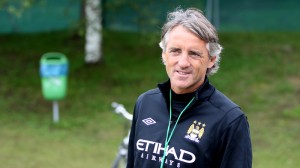 All that said, what is not excusable in amongst the chaos is a lack of desire, passion and character. Throughout the Premier League campaign so far, despite not playing at our exhilarating best, we have displayed reserves of self-belief and togetherness but for whatever reason, there was none of that last night. There was no sustained pressure as we ought to have fought to get back into the game, no-one prepared to get stuck in and drive us forward. Irrespective of formations or players selected, that willingness to run and battle should be a given. Sadly, it was not.
Ajax were a competent, technically fine side but we made them look a class above. Realistically, if not mathematically, our hopes of progressing beyond the group stage are over and it remains to be seen whether we will even finish third and thus qualify for the Europa League.
Swansea visit the Etihad Stadium on Saturday in a fixture where we must show some character and respond to this abject performance. We have not suddenly become a bad side, but what we do need to prove is that we are constantly learning and improving. Last night, there were no signs of that happening at all.
The View From A Blue app is now available for iPhone, iPad and Android users. Featuring updates from the official MCFC website, BBC, Sky Sports, the Premier League, viewfromablue.com, Twitter, Facebook and YouTube, it is the must-have app for any Blue. Search for 'viewfromablue' or click here to download for iPhones and iPads, and here to download on the Android Market.