21 Oct
This was a performance and result that Champions produce. In the face of adversity, the Blues battled superbly with ten men for 70 minutes, dominating possession, controlling the game and scoring twice in the final ten minutes to record a fully-deserved victory. Having seen James Milner sent off, correctly, early in the first half, this was a display that highlighted the spirit, togetherness and self-belief that the squad possess, that drive to keep going until the end which has been evident throughout the season so far.
Despite operating with one less player for the majority of the game, the Blues were terrific. To have had 61% possession with a full compliment of individuals would have been impressive enough away to a West Brom side who had started the season so well, but to achieve such a feat with just ten men says everything about the quality and character of the team. It was a performance which continued our recent good form and builds momentum before Wednesday's crucial Champions League tie with Ajax.
Roberto Mancini's tactical flexibility following Milner's early sending off was key and showcased the Italian at his decision-making best. Having started the game with a 4-2-3-1 formation and Mario Balotelli on the left of the attacking trio, the manager then altered that system to become 4-3-1-1, with Carlos Tévez operating between midfield and attack to link up play and Mario Balotelli given the responsibility, as he was for Italy in the European Championships over the summer, of leading the line on his own. And it worked.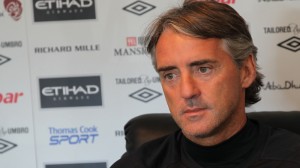 Balotelli was terrific. As always seems to be the case, he grabbed many of the post-match headlines and has split opinion amongst Blues, but I thought his performance, when on the ball, was his best in a City shirt. His pace and trickery were in evidence throughout, his hold-up play exceptional and his strength and touch were both superb. It was a perfect example of how to operate as a sole striker, bringing others into play and occupying the West Brom defenders.
However, the flip side was that he was almost sent off. What actually happened is he received a booking (a harsh one at that, considering the nothing nature of his tackle and the far more serious ones from players on both sides which went unpunished) but Mark Clattenburg seemed determined to pick on Balotelli because of his reputation. The Italian doesn't help himself at times – holding his face when he was pulled down by the throat is undesirable – but the way he maintained his composure in the second half before he was substituted suggested he may just be maturing. Slightly.
The introduction late on of Edin Dzeko and the Bosnian's subsequent two goals were further examples of Mancini's tactical plan working, especially considering the winning goal, scored in injury time, was crafted by all three substitutes. Aleks Kolarov won the ball from a corner and passed it to Sergio Aguero, who in turn played a delightfully weighted in to Dzeko to send the away fans delirious. It was a goal which has made many claim Dzeko deserves to start, but that naively overlooks his regular underwhelming performances when handed a starting berth. It seems, at the moment at least, the Bosnian is far more effective coming off the bench late on to pose a different threat to tiring opposition defences.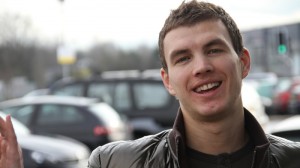 One other player I'd like to focus on is Joe Hart. Roy Keane had branded him as "cocky" in midweek but we saw yesterday how what he actually meant was that our goalkeeper has a huge amount of self-confidence, backs himself and has a rare ability to forget his mistakes. For England, he had committed a poor error, his judgement in coming for a corner off and he was punished by conceding a goal. But whereas many goalkeepers would have let that mistake affect them, Hart was back to his commanding, authoritative self against West Brom. He was decisive in coming to claim corners and crosses, oozing self-belief. As a 'keeper constantly in the spotlight, that is exactly what you need.
Opposition View: West Brom have started the campaign very well, especially at home, but they seemed scared of our threat yesterday and altered their tactics accordingly. Whereas they had previously set up with an attack-minded formation, they reverted back to a defensive mindset on Saturday, perhaps understandably given our quality, but Milner's red card should have encouraged them to push further forward. As it was, they offered very little as an offensive threat until the introduction of Peter Odemwingie, who provided an added spark and thrust. They didn't deserve anything from the game but will be disappointed to lose in such circumstances and will be ruing Romelu Lukaku's header which he should have buried but only directed at Joe Hart.
As for the Blues, it was an excellent, character-filled display, one worthy of all three points. Next up is a must-win Champions League encounter with Ajax before Swansea visit the Etihad Stadium next weekend.