4 Oct
The View From A Blue app is now available for iPhone, iPad and Android users. Featuring updates from the official MCFC website, BBC, Sky Sports, the Premier League, viewfromablue.com, Twitter, Facebook and YouTube, it is the must-have app for any Blue. Search for 'viewfromablue' or click here to download for iPhones and iPads, and here to download on the Android Market.
Thanks to Joe Hart, we're still in with a chance of progression from the group. A slim chance, admittedly, and it would need a pair of victories over Ajax in the next two games to provide any real optimism, but if it were not for the heroic performance of our goalkeeper last night, we would be feeling a far stronger strong sense of despondency today.
As it is, there is a mix of emotions: relief at escaping with a point, trepidation at having to face Borussia Dortmund again in what could be a decisive final group encounter, frustration at the continued frailties of our defence and concern about the nature of lacklustre performances. Fortunately, Mario Balotelli isn't one for emotions and it was his composure from the penalty spot which secured a share of the spoils despite being on the receiving end of a German footballing lesson in pressing, movement and penetration. We are indebted to Hart for preventing a humiliation but despite being on the back foot for much of the game, City still could have scored plenty themselves.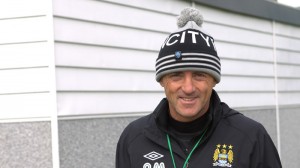 Samir Nasri had a shot beaten away in the opening minutes of the game, Sergio Aguero failed to take advantage of a pair of excellent one-on-one opportunities, David Silva inexplicably volleyed over from close range and Pablo Zabaleta slashed wildly when presented with a great chance. It was a game which could feasibly have featured double figures in terms of the number of goals, but Balotelli's penalty at least gives the Blues a fighting chance. And as highlighted on the final day of last season's Premier League campaign, we will battle to the end.
Sadly, for periods last night, that battling spirit and togetherness was worryingly absent. With Gareth Barry rested after playing a number of games in a short time following a lengthy injury, there was a lack of protection in front of defence. Javi Garcia, in his brief City career so far, has offered extremely little save for aerial presence in the opposition box. He seems far more interested in pointing à la Steve McManaman than actually providing cover for our centre-backs, his passing is laboured and lacking in incision and his withdrawal in the first half due to injury seemed a blessing in disguise.
However, his replacement, Jack Rodwell, was the man culpable for Dortmund's strike after a loose, lazy pass in midfield. It was a poor error, the second time Rodwell has committed such a mistake and unfortunately for him, both have led to goals, but Yaya Toure´s pass to him which preceded the error was symptomatic of our insipid display. It has been a long time since the Ivorian was neutralised to such an extent, Dortmund's tireless midfield denying him the space and time to make his mark on the game. But Yaya's passing throughout the game was disappointing. His ball to Rodwell, a needless backwards pass when he had time to turn and start an attack, was a perfect example of his, and the team's, negative display.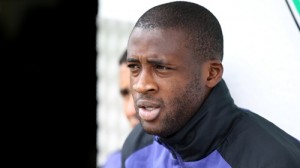 We are still relative newcomers to this competition, but that doesn't excuse such a display. This was not a matter of adapting to European competition, rather a case of finding a way to move the ball quicker, show more initiative and operate with a tempo that actually suggests the players want to win. The complete absence of urgency, except for a ten-minute spell late in the first half when David Silva and Sergio Aguero threatened with their sharpness, was intensely concerning. It was evident for all watching that Dortmund's incessant pressing, combined with our lethargy, was causing us numerous problems but there was no visible attempt to improve the tempo.
Much of the pre-match, and indeed post-match, criticism of Roberto Mancini has been focused on his penchant for rotation, his apparent desire to introduce change costing City their fluency and success.The 3-5-2 formation deployed so frequently in pre-season has been deemed ineffective, with critics seemingly overlooking just how scintillating the Blues were in the Community Shield against Chelsea. If worked well, the new formation can be lethal; with genuine width and pace in the side, control in the midfield and bodies in the box, it can be a huge weapon for City. True, it hasn't worked too well so far but its implementation for a brief spell in the second half yesterday had no bearing on the result. The goal came about due to an individual's error not a change of system. Mancini will no doubt persevere with it and with Vincent Kompany suspended for the fixture away to Ajax, plus the manager's apparent distrust in Joleon Lescott in this competition, we may well see it deployed in Holland.
But more than the system, we need to at least display some fighting qualities and show that will to win which was so evident last season. Apart from Joe Hart, it was all too absent last night.