28 Jul
Pre-season matches are notoriously difficult games from which to garner too much useful information, but it was pleasing to see the Blues record a victory in our toughest outing so far yesterday against Arsenal. An early defeat to Al-Hilal has been followed by a draw and now two victories and although fitness is the most important element of these fixtures, we've started showing a few signs in the past couple of games of the quality which secured last season's memorable title success.
Most notably against Arsenal, there were a number of impressive individual performances and as fitness levels improve, I'm sure Roberto Mancini will be looking for players to make a case for their inclusion as the season approaches. One individual who will almost certainly start on the bench is Costel Pantilimon, but his appearances in the four games have given reason to be reassured should Joe Hart, who has just returned to training at Carrington, suffer an injury that keeps him out for any length of time.
The Romanian goalkeeper, whose only appearances during the last campaign came in cup competitions, has displayed his quality throughout and in difficult conditions against Arsenal in China, his handling was exceptional. For someone of his height and stature, he should arguably be even more commanding of his penalty area but his shop-stopping was there for all to see and some of his last ditch saves were most impressive.
We operated with a 3-5-2 formation against the Gunners, a tactic Roberto Mancini occasionally used to close out games last season but it is not one which I feel we are equipped to deploy too frequently. In the wing-back positions, the quartet of Micah Richards, Pablo Zabaleta, Aleks Kolarov and Gael Clichy would all suit the formation, but it is the three centre-backs which I'd be concerned about.
Vincent Kompany and Joleon Lescott would obviously fill two of those spaces, but whilst it might be acceptable to have the likes of Kolo Touré or Stefan Savic as a third central defender in the last ten minutes of a match, they are not of the required quality to play 90 minutes. The Ivorian still reads a game well but has lost a yard of pace and looks uncomfortable in possession whilst Savic just looks uncomfortable in all areas.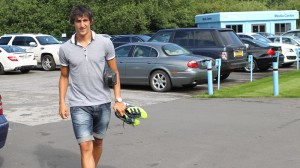 Slightly further forward, City have an Israeli trialist, Nir Biton, training with squad and he has so far started all but one of the pre-season games. Of course, it is challenging to assess his performances in what has often been an under-strength or much-changed team, but he has coped well and the likelihood is that he will soon be added to the squad on an official basis.
His style of play reminds me of Michael Carrick in the sense that he's not particularly explosive but is very tidy in possession, keeps the play ticking over and is capable of bursting forward, as he did to help create Pablo Zabaleta's opening goal against Arsenal. At times, periods of the game seem to pass him by and he is the type of individual who fans might criticise as he seems to coast through, but he is often in the right place, playing easy, but effective, passes. For what his valuation is – around £2m – I'd expect him to sign permanently.
Abdul Razak is another midfielder who has seen plenty of playing time over the course of the last four matches and he did a steady, if not spectacular, job in China. Playing in Gareth Barry's holding role, Razak showed great tenacity and bite in tackles, often using his strength to win the ball or hold off an opponent but his passing was a touch lackadaisical and that would need to improve should he be given an opportunity in the first team. He spend part of last season on loan at Brighton and I'd expect to see him depart on loan against this time around, hopefully benefiting from regular first-team football and then he could be ready to challenge by the start of the next campaign.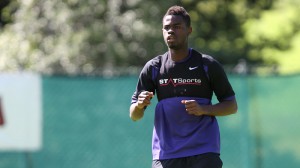 In terms of the established stars, there was nothing too much to learn. Yaya Touré ran the game with his physical presence and bursts from midfield, whilst the Carlos Tévez and Sergio Aguero partnership flickered and showed some signs, especially on the counter-attack, of the link-up play which proved so effective towards the end of last season.
Whilst improving fitness levels and avoiding injury remains the objective, there have been some pleasing elements so far from the Blues and with a whole host of first-team regulars still to return, signs are promising heading into the start of the new campaign: a campaign in which we will defend the Premier League trophy.