1 May
The View From A Blue mobile app is now available to download on iPhones, iPads and Android phones. It features updates from this blog, the official MCFC website, BBC, Sky Sports, the Premier League, YouTube, Twitter and Facebook. Search for 'viewfromablue' in the appropriate market.
It was every bit as nerve-wracking as expected. The tension was unbearable, the drama too much to take. But we came through as victors. On a night which could potentially prove decisive, this was a result which moved us ever closer to achieving our Premier League dreams. We showed character, pride, resilience, togetherness, bottle and more. It may not have been vintage. The significance of the game made that impossible. But it was a successful night, one in which we displayed our true force.
It was a night in which the team was exactly that. There was no individual brilliance, but a collection of Blue heroes. Led by inspirational captain Vincent Kompany, this was a display which sent a message to Manchester United, one which they already knew but wished to postpone: the tide is turning.
A note of caution must be added. We are now top, goal difference seeing to that, and should we win our remaining two games we will surely lift the Premier League trophy. But that pair of fixtures is by no means straightforward. A trip to face Newcastle away next weekend will pose a number of challenges, though with the belief and confidence taken from yesterday, the advantage in the title race is ours.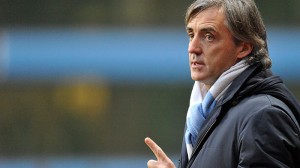 On a night where the whole team were together as one, it seems almost irrelevant to single out individuals, but Gareth Barry is worthy of special mention. Thought of at the start of this season as a touch one-dimensional, a plodder in midfield who was too slow and technically lacking for the top level, he has rammed those words down the throat of his critics.
His display last night was the sort of which he has been producing all season. Quietly going about his business in the centre, he was the protective foil that allowed the likes of Samir Nasri, Yaya Touré and David Silva to express themselves. He was the one making interceptions, shielding the defence and mopping up any loose ball. He was the one who provided the balance, the reassuring presence that if an attack broke down, he'd be there to start another one. Criminally underrated, it's finally time the rest of footballing world started to appreciate just how good Barry is.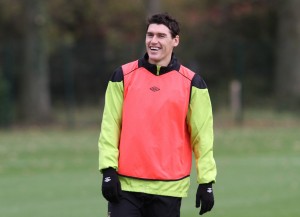 Opposition View: For the first time in many a year, United came with the sole intention of stopping us from playing. Their tactics were not based around their strengths, but in trying to nullify ours and that says something about how they now view us. The omission of Antiono Valencia was surprising to say the least, whilst Wayne Rooney was isolated for large sections of the game and the fact United didn't even have a shot on target highlights just how dominant we were.
Up next, it's that afore-mentioned tricky fixture against Newcastle before the final game of the season at home QPR. The advantage is now ours and it promises to be a tense, anxious and nerve-wracking last couple of weeks. More of the same from last night, really.