23 Apr
Two weeks ago, there was a feeling of utter deflation amongst Blues, anger at the defeat to Arsenal and the likely end of our title ambitions. Now, following wins against West Brom, Norwich and Wolves, combined with a Shaun Maloney inspired Wigan and Steven Pienaar's dramatic late equaliser for Everton, there is hope and optimism. The race for the Premier League trophy is in our hands.
There are three games to go and victories in each would secure success for City. With United unexpectedly slipping up at home to the Toffees, our deserved win away at Molineux means that we head into Monday's explosive Manchester derby with the momentum, confidence and belief that a victory at the Etihad Stadium would put us in a dominant position at the top of the table.
Everton's heroics at Old Trafford in rescuing a point having been two goals down heading into the final few minutes put the pressure back on the Blues to do the business against Wolves, and despite a slightly lethargic display, lacking fluency and incisiveness, we recorded three points thanks to goals from Sergio Aguero and Samir Nasri.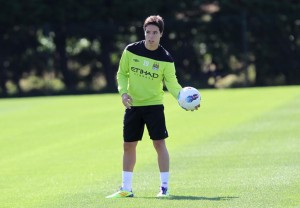 It was a victory that moves us to within three points of our rivals with a superior goal difference and it adds even more importance to next week's blockbuster of a derby. That fixture doesn't exactly need hyping up at the best of times, but with such significance now placed upon it, these next seven days will be nervewracking, tension-filled and certainly not enjoyable!
Focusing on yesterday's encounter and it was manifest that we weren't at our electric best, seemingly lacking in tempo and proving profligate in front of goal. However, in times like that you have to dig in and battle and we did just that, our solid foundation in defence allowing our attacking players to express themselves as often as possible.
The outstanding performance came courtesy of Gael Clichy, who continued his excellent recent form with another top class display. Defensively, he was reliable and managed to thwart the attempts of Michael Kightly to fire crosses into the box. Going forward, the Frenchman showed his energy and willing, and combined those attributes with a throughball David Silva would have been proud of to assist Aguero's goal.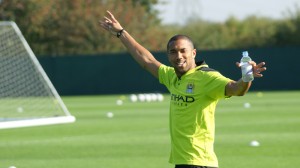 There were plenty other impressive displays, not least from Aguero, Pablo Zabaleta and Gareth Barry, but it was an odd day in some regards. Wolves fought valiantly but their relegation to the Championship was confirmed, meaning it was a slightly sombre atmosphere towards the end of their game. The travelling Blues were obviously elated at victory and at closing the gap to United, but there was certainly some empathy for the home fans.
That feeling will not last long, however, as the derby moves ever closer. A week of nerves, anxiety, hope, tension and longing await before play at the Etihad Stadium. Strap yourselves in, Blues. A rollercoaster end of the season is in store.
View From A Blue is delighted to offer an exclusive promotion for readers! Banc De Binary, the global leader in binary options trading, is offering a 100% sign-up bonus for us Blues. No fees, no commissions, and up to 500% profit in 1 trade. Start trading today or try a free $50,000 demo account. Claim your 100% sign-up bonus here!