15 Apr
View From A Blue is delighted to offer an exclusive promotion for readers! Banc De Binary, the global leader in binary options trading, is offering a 100% sign-up bonus for us Blues. No fees, no commissions, and up to 500% profit in 1 trade. Start trading today or try a free $50,000 demo account. Claim your 100% sign-up bonus here!
A tremendous victory, reminiscent of our performances from the early stages of this season, has given us renewed hope that this may possibly be a title-winning season. The success over a plucky Norwich side narrowed the gap to Manchester United to just two points although that then returned to five following the Reds' triumph over Aston Villa.
Whilst there is still hope, we will continue to keep battling away and more displays like this will take the title race to the wire. It was, at times, a quite breathtaking exhibition of free-flowing football, with a combination of electric movement and clinical finishing seeing off the home team. Sergio Aguero and Carlos Tévez provided a demonstration of outstanding forward play, scoring five of the six goals, but it was a hugely impressive team performance that secured the three points.
Feasibly, four of our strikes could be nominated for goal of the month, such was quality on show. Tévez's first effort was a dipping, swerving shot that left John Ruddy in the Norwich net helpless, whilst the interchange and movement for Aguero's opener was exquisite. And it continued to get better. Aguero's second was much more of a solo effort, running with the ball from our own half, taking on and cutting inside a couple of opposition defenders before delicately curling the ball beyond Ruddy. But, for me, our final goal topped the lot.
Receiving the ball out on the right wing, Aguero must have been tempted to try for his hat-trick, but showed the selflessness that characterised his performance, instead opting to seek out Gael Clichy, whose immense energy levels allowed him to burst into the Norwich box in injury time. The Argentine played a sumptuous, pin-point pass into the Frenchman's path and Clichy then expertly cushioned the ball for Adam Johnson to supply the finish. It was a perfect team move to round off a perfect team victory.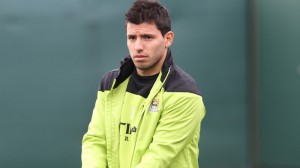 Naturally, having scored three goals, Carlos Tévez stood out and it was great to see him fully committed and performing at his best. His link up play was magnificent, his workrate as impressive as always and his partnership with Aguero was a joy to watch. The only frustrating element from his display was that it made one wonder just how different this campaign would have been had Tévez not been brushing up on his golf handicap for the majority of the season.
Opposition View: It was a strange game in the sense that we outplayed Norwich for the first half and then the final twenty minutes of the encounter and yet up until 70 minutes, the Canaries were still very much in with a shout. Their desire to play open and attractive football ought to be commended, though it did play into our hands such is the quality of attackers we possess. The opening twenty minutes of the second half highlighted just what a threat Norwich can be and they dominated those exchanges, getting the ball out wide and peppering our box with crosses. Overall, their first season in the Premier League has been a resounding success and they deserve the plaudits that are coming their way.
As for the Blues, a trip to Molineux next weekend awaits. On paper it should be a relatively straightforward task, although Nenad Milijas has proved on occasions in the past that Wolves relish the challenge of facing City. A win there is absolutely imperative if we are to retain hopes of lifting the trophy and a performance next Sunday like the one yesterday would go a long way to securing the victory.