12 Apr
The View From A Blue mobile app is now available to download on iPhones, iPads and Android phones. It features updates from this blog, the official MCFC website, BBC, Sky Sports, the Premier League, YouTube, Twitter and Facebook. Search for 'viewfromablue' in the appropriate market.
Title race back on? Well this result, combined with Wigan's surprising victory over Manchester United, has certainly given us hope of lifting the Premier League trophy. Our destiny is not in our hands, but all we can do is keep piling the pressure on our rivals and a comfortable victory at home to West Brom was the perfect way to do just that.
A brace from Sergio Aguero, added to a goal apiece by Carlos Tévez and David Silva, secured a straightforward victory for the Blues, one reminiscent of earlier this season when we swept away all before us. The fluent movement had returned, the passing seemed crisper and there was an expectant air every time an attack commenced. The visitors were underwhelming, opting to defend in numbers and posed no threat to Joe Hart's goal, but this was a dominant City performance, one that should hopefully restore some much needed confidence and belief back to the squad.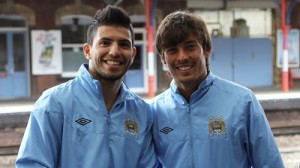 In an impressive team performance, much of the acclaim went to the attackers though my personal choice for man of the match was Gareth Barry. Following a slight decline in the level of his performances recently, this was the Barry from the first few months of the season: a commanding presence in the middle and an absolutely essential ingredient in the make-up of our team.
With Yaya Touré absent through injury, Nigel De Jong adopted the more defensive role in midfield and that enabled the former Aston Villa man to influence proceedings further forward. He showed incisiveness on the ball and great positional awareness on occasions, yet still had the wherewithal to drop back when needed. His contributions often go unnoticed and therefore undervalued, but he's been superb for the majority of this season and was the pick of the bunch last night.
Understandably, much attention was focused on the return of Carlos Tévez, and it was an impressive display by the Argentine. He still lacks match sharpness but none of his football intelligence has disappeared and he was constantly on the move, creating space for himself and others. At times, he dropped deep to pick up the ball from defence and his presence seemed to bring the best out of our other attackers, notably Aguero and Samir Nasri.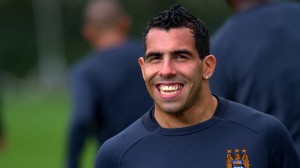 Tévez's energy and workrate certainly made a huge difference, as our pressing as a team was noticeably prominent. Every time we conceded possession, the players would swarm round the opposition, forcing them into errors and it meant we recovered possession high up the pitch. That was a major factor for the final goal of the game, with Gael Clichy showing immense desire to press West Brom, enabling Aguero to win the ball and set up Silva to score a delightful chip.
Opposition View: West Brom came to the Etihad in search of a point, but Aguero's early strike enabled us to coast to victory. Shane Long was far too isolated throughout and had no chance against the powerful partnership of Vincent Kompany and Joleon Lescott, whilst our trio of second half strikes ended any visiting hopes. At the Hawthorns, the Baggies were resilient, dogged and committed, but we had far too much quality last night and were very deserving victors.
Next up for City is a tricky trip to Norwich on Saturday, but a win there would move us to within two points of United and put the pressure on them. Whilst there is still hope of lifting the trophy, we need to believe.