10 May
We're 90 minutes away. Just one final effort, one final performance, one final burst of attacking football to drive us over the finishing line. The title is in our sights, teasing us as it stands there, waiting for us to grasp it tightly, but remaining, for the moment at least, just out of reach. It should be in our possession come Sunday evening.
For the fans, for those who have experienced self-inflicted misery time and time again, and for those whose hearts have barely recovered from the quite remarkable events of two years ago, nerves are inherent. They're there, prominent, battling without much resistance to stand proudly at the forefront of our minds. We will worry. It's what fans do. We will try to avoid thinking of the worst possible outcome but it's inescapable. An unfortunate own-goal, a last-minute Andy Carroll header, a fraught and frustrating first-half in which we struggle to knock down a resilient opposition door. Those thoughts will have passed through the minds of many a Blues' supporter over the past few days: hope tinged with concern, optimism buried beneath a mound of anxiety.
Yet it must be remembered that the players don't think like fans. They are a group of highly skilled, highly focused, highly determined individuals who have maintained a consistent approach to the season. If not quite ruthless, they have a clinical streak and an assured professionalism. In this position, just one game from the end and with the power to turn our dreams into reality, they will be fine. They'll stride out onto the Etihad turf on Sunday confident, hungry and, above all, professional. This is a group of winners, of leaders, of characters who will not let this opportunity slip.
Vincent Kompany and Martin Demichelis are both an extremely tempting 20/1 to open the scoring with William Hill. Bet here now and enjoy some great odds!
In terms of selection, it is a relatively simple one for Manuel Pellegrini. He has declared the whole squad fit for this encounter, the first time this season the whole playing staff has been available, but there will be minimal changes. Sergio Aguero is not quite 100% but he'll start, most likely in place of James Milner. Aleks Kolarov will surely retain his place on the left of defence, his rotation on a game-by-game basis with Gael Clichy a feature of Pellegrini's selections over the past couple of months, but the Serbian's greater offensive threat is expected to get the nod.
The only dilemma is a choice between Javi Garcia and Fernandinho. The Brazilian has supposedly been carrying a slight knock in recent times but has still been fit enough to feature on a consistent basis from the bench and he would be my overwhelming choice, but I would expect the manager to stick with Garcia, his height as an obstacle in front of Andy Carroll perhaps a redeeming feature.
Here is the side Pellegrini could select: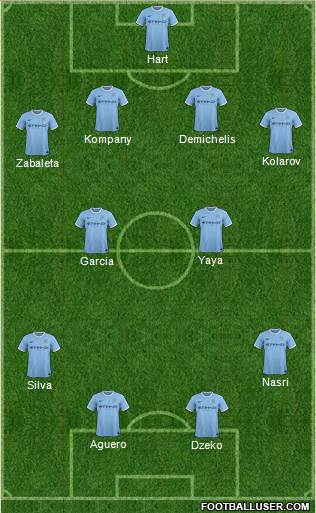 Referee: Martin Atkinson.
Prediction: MAN CITY 3 – 0 West Ham – Cold-bloodedly, we should be fine. We are a superior side to West Ham, better on the ball, better off it and with such rewards at the end of an exhausting season, I can't see the players passing up this glorious chance for silverware. An early goal would settle us down and I expect we'll come out firing early doors and hopefully – hopefully – run out comfortable victors. I'm predicting goals to be scored by Edin Dzeko, Sergio Aguero and Samir Nasri.
Fancy Yaya Touré to grab the first goal in a comfortable 4-0 City victory? William Hill are offering a cracking 22/1 for that to happen. Bet here now and enjoy some great odds!