11 Feb
This is a guest post by Howard Hockin, part of the award-nominated BlueMoon podcast and author of This Is How It Felt To Be City, now available on Kindle.
As Gareth Barry coolly slotted the ball into the bottom corner, a shot of such authority and panache that the keeper barely moved, I stared at the television screen for a good minute in silence, my bewilderment at what I had just witnessed eventually broken by the continued laughter of a Manchester United fan stood at the bar. Was this an elaborate joke?
Southampton 3 Manchester City 1.
City's title defence over in early February.
I'd been in this position before. Precisely this position, in the same bar, surrounded by the same scowling City fans accompanied by a soundtrack of braying United fans still hanging around for the "banter" after their earlier victory. Then it was an abject surrender to Arsenal last season that seemingly signalled the end of our title challenge. We all know what happened after that, but not this time. This time it really is over, and City's players and managers would do well to realise that there are a batch of teams in pursuit behind them, and pick themselves off, dust themselves down, and learn how to win football matches again. Don't bookmark all those scathing articles, don't favourite the tweets from mocking United fans. They won't be needed this time.
It has unravelled so quickly. Just a few weeks ago, City were hitting form, a momentum was building. Built on clean sheets, three points followed three points, and you felt that a real fight was on the cards once more with our illustrious neighbours. But then they just gave up. Well maybe not, but it felt that way at times. No goals against a poor, poor QPR side, another schooling from a mid-table Liverpool, before waving the white flag against a relegation-threatened Southampton side with three home victories all season.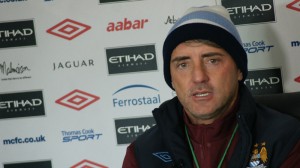 And so it's back to the default stance of ancient times. Avoid the newspapers, avoid the television, avoid certain people in the office. Football sucks again.
I once worked with a guy that I was convinced was trying to get himself sacked. He was clever, hard-working and sensible, yet repeatedly failed to do certain tasks that directly irked the big boss, with no explanation bar a shrug of the shoulders. Sometimes I get the same feeling with Mancini. Don't pick Vincent Kompany, despite him passing a fitness test, substitute David Silva, ignore Scott Sinclair, play a defence packed with full-backs, play a midfielder in central defence when there is a (very experienced) centre-half on the bench, bring defenders on when we are losing, tinker with formations repeatedly, and even pick Samir Nasri over James Milner when the Englishman is showing signs of form (and the Frenchman is not). His tactical knowledge is greater than mine of course (postage stamp etc), but is he sending a message to the owners? Is he sacrificing himself? Is he trying to be too clever? Answers on a postcard, please.
Our strikers seems to be in turmoil off the pitch. Carlos Tevez missed the trip to the south coast with family issues, and pines for the bosom of Boca Juniors, chimichurri steak and never to see another Nandos or KFC. Sergio Aguero's relationship has broken down, too, separated from his beloved son, and the vultures in Madrid circle sensing an opportunity to take advantage of his unhappiness. And Mario Balotelli was, well, he was just Mario Balotelli. Scoring too few goals is where the domestic campaign fell down in the end, our leading scorer's best performances coming from the bench. That and United being on course for 95 points – the bar is set so high nowadays that failure is simply not an option. A bad week kills a title challenge, a bad season destroys a manager's reputation.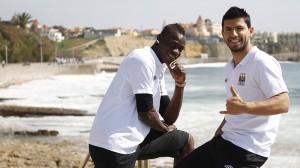 But Saturday was different somehow. Bad performances happen to every team in the land, but Saturday looked to me like a team that couldn't be bothered. I am sure they were, but it didn't appear that way. I can't blame it on complacency as no player or manager with a functioning brain would have gone to Southampton thinking it would be easy. Maybe after the draw at Liverpool the mind-set of the players changed and they accepted that the title challenge was over. If so this is utterly unacceptable.
As a fan I am allowed my relentless negativity, a negativity that has evolved, developed and embedded itself in my psyche through three decades of failure and utter f***wittery from my football club. I'll moan when I want. The players do not have this excuse. They should always, as the song goes, fight to the end.
So what now? Well, to state the obvious, the FA Cup takes on even greater importance. City stand a good chance of reaching the quarter-finals if they take next week seriously and regain their composure. A season with a trophy is never a failure, and victory would take the fans one step away from another Wembley visit.
City's owners need to have decided now what next season brings. If they are to retain Mancini's services then plans for the summer should already be well underway. If our new Barcelona-inspired executive dream-team is calling the shots, then players should have been identified already, irrelevant of who is in charge. No more pussy-footing around in the transfer market – if City had paid the going rate for Van Persie, I wouldn't be writing this article. There's no point in taking Financial Fair Play seriously if it removes our ability to win trophies or compete in Europe. This time last season, Chelsea were a shambles, a rudderless ship stumbling from one embarrassing result to another. In the end, they became European champions and secured the FA Cup for good measure. So it's time for the City team to press on and regain some professionalism, because who knows where the journey may end?
Howard Hockin's Manchester City: 2011/12 Season Review book is available on Amazon.