3 Feb
This is a guest post by David Mooney, part of the award-nominated BlueMoon podcast and author of the recently-published Typical City.
It's been no secret that, this season, City's strikers have been struggling. In fact, three of the four of them have found the net less frequently this season than they did last. Dzeko has managed 11 goals so far, putting him as the Blues' leading scorer, followed by Aguero on ten, Tevez on eight and the now departed Balotelli on three. At this stage of City's 2012 title winning season, Dzeko had two more, Aguero had seven more and Balotelli had nine more.
Only Tevez had fewer, but that was largely because he'd gone on a golfing sabbatical in September. However, if we were to take Tevez's goalscoring record from the last season when he was playing a regular part – the year in which the Blues won the FA Cup, 2010-11 – then he has nine fewer goals, having scored 17 by the end of January that campaign.
To put those figures into perspective, each of the strikers reached their current total much earlier last season (or the season before in Tevez's case). Dzeko's eleventh came on 5 November at Loftus Road in City's 3-2 win over Queens Park Rangers. Aguero's tenth was the third goal in City's 6-1 demolition of United at Old Trafford on 23 October, while Balotelli's third was on the visit to Ewood Park on 1 October. And Tevez's eighth of 2010-11 came on 21 November, when the Blues beat Fulham 4-1 at Craven Cottage. Each one of them hit their current total at least two months earlier than they have this season.
OK, so there are a few mitigating circumstances: Aguero's had more injuries and Balotelli's hardly played for one reason or another (viruses or impending departure – take your pick). Dzeko and Tevez have been blowing hot and cold for a while; the Argentine hasn't scored in the Premier League from open play since the visit of Aston Villa to Eastlands in November. He hasn't scored at all in his last eight Premier League games.
Talk about misfiring strikers.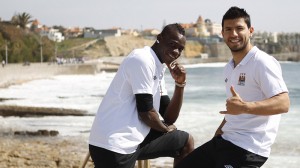 If anything, I think it's fair to say that the Blues have been lacking a bit in the final third. When it comes down to attacking style of play, getting through those parked-buses have proved to be difficult. Last season, City were the motorcycle slicing through the gridlock caused by the public transport vehicles. This season, they're a tank; occasionally bulldozing over, but largely scraping through with much less subtlety.
Given the Blues' less than perfect goalscoring performances, you could be forgiven for thinking the manager might try something different to liven it up a bit. In a four-minutes-plus-stoppage-time cameo at Loftus Road in midweek, Scott Sinclair did, arguably, more than most of the forward-minded players on the pitch. In that time, he ran at Onuoha, beat him once and was tackled – on another day, that tackle could have been mistimed and earned a last-second penalty. Not that that's a huge deal, but it goes to show how little anybody else did offensively.
It's at this junction, I'm beginning to ask the question: What's the point of Scott Sinclair? I don't mean that in a bad way and I'm certainly not being critical of him, but more critical of the decision to sign him. I don't get it; it's as if Roberto Mancini has so little faith in him that he's not willing to get him on the pitch to change a game or to be the creative spark, despite us being in a situation where our forwards are looking like they've never met each other.
Nevertheless, Scott Sinclair remains on a seat on the bench. Or on the pitch for the final 240 seconds. Good luck doing something in that time, lad.
In fact, to give you some idea of how little the winger's played for the club, up until the end of January, Sinclair has played more Premier League minutes for Swansea at The Etihad Stadium than he has for City.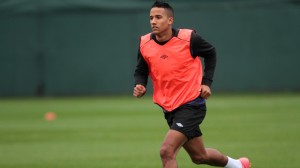 So why is he here? We're hitting the point where he's offering absolutely nothing to benefit City or absolutely nothing to benefit his own career. In fact, the only thing that is improving for him at the moment is his bank balance – and surely he can't be happy with that? Surely there must be more to being a professional footballer than training all week, sitting on the bench and collecting a high pay packet?
I'm not knocking his decision to join City because I'm sure he'd have thought he'd have played more than he has done at the time of the transfer, but, again, I'm knocking the decision to sign him. I'm not going to sit behind my keyboard and pretend that Adam Johnson was the best player in the world because, let's face it, he was quite limited and a very changeable winger, but he was at least trusted by the manager to get on the pitch and maybe do something.
Nothing on that front from Sinclair: when chasing a goal, Mancini has seemingly done everything in his power to avoid putting him on. In fact, over the Christmas period, the manager substituted Javi Garcia for Joleon Lescott while a goal down at Sunderland and sent the centre-back up as an emergency striker. Scott Sinclair remained an unused substitute.
Without getting too deeply into what Adam Johnson was and wasn't too good at – he wasn't as much of an impact player as you'd think, scoring more 'important' goals when he started than when he came off the bench – he was, at least, considered as an option when the Blues were trailing or drawing and chasing the three points.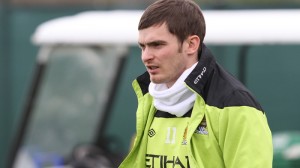 Equally, by no means do I think it was a bad move letting Johnson leave – he was never going to be more than a bit-part player the way Mancini sets up. The manager is seemingly not a fan of crossing the ball into the box frequently and playing the percentages, choosing instead to work possession around the edge of the box and drag the opposition out of position to create space. With this in mind, you can hardly blame Johnson for wanting more regular football.
That being said, if Johnson or A N Other Winger was the Plan B for when the possession football wasn't breaking the opposition down, he'd need replacing. Naturally, Scott Sinclair seems like that replacement, but in recent games – especially away from home – where we've failed to get through, that Plan B is looking more like Plan Z.
(You'll need to re-read that last bit in an American accent to get the full effect)
So what's the point in bringing someone in never to use them? For the contributions Sinclair has made so far this campaign, City may as well have just sold Johnson and done nothing. Again, I'm not being harsh on the winger; he's not going to do anything if he doesn't play. Neither will he do much in seven minutes – in his entire City career, he's only played for 45 minutes or longer on three occasions. In total, he's not racked up two Premier League games, playing just 160 minutes in the competition. In all competitions, that figure becomes 291 minutes.
As things stand, City are now ten points behind United. It's been the defensive record (most clean sheets in the league now, and eight fewer goals conceded than the next best back-line in Chelsea) that's been keeping the Blues (just about) in touch with top spot. With the problems up top, what harm can giving Sinclair the chance to impress do?
It's not like it's going to upset the rhythm that the forward players have been building recently.
David Mooney's book, Typical City, following the Blues' journey from July 2008 to Sunday 13th May 2012, is available here!