3 Jan
This is a guest post by Howard Hockin, part of the award-nominated BlueMoon podcast and author of This Is How It Felt To Be City, now available on Kindle.
So it's goodbye to 2012. It was a year never to be forgotten for Manchester City fans, giving them their greatest moment as a football supporter since switching allegiance from Chelsea. With one swing of a boot, Sergio Aguero erased a generation of hurt in a match that reverberated around the world.
The year had started badly with two cup exits, including a vicious knee-high assault on Nani from Vincent Kompany that left the United player so shocked he forgot to fall over and feign injury. After a better February, it all fell apart in March, and the t-shirts rolled off the production line – title number twenty for United, and the most depressing one of my lifetime, seemed inevitable.
(Elsewhere, Mario Balotelli was once more in the news when he was seen arriving at training with his baseball cap on backwards.)
Carlos Tevez returned to England after competing in the world's longest golf tournament, and soon got to practice his swing again after scoring against Norwich. With news that Grill on the Alley had opened Manchester's 3rd restaurant, Tevez pledged his future to the Citizens, and all was well.
(Elsewhere, Mario Balotelli was once more in the news when it emerged that he was seen driving away from the scene of an accident just hours before it happened.)
But surely there couldn't be any way back from eight points down with six games to go, after a soul-destroying defeat at Arsenal? And yet somehow there was. United wobbled, Everton did City a favour, and the race for the title was back on. Ferguson's team-sheet for the crucial derby on April 30th was a white-flag of surrender in all but name, and three months of stress ended with the greatest moment in Premier League history (that's a fact), and the knowledge that it is all downhill from now on. At last, 132 years after being founded, ManchesterCity could at last claim to have a history.
Sunderland fans celebrated as if they too had won the league and United fans across the globe promised a lifetime of vengeance for this heinous act. Pat Connor, United fan, said: "I'm 74 now and have watched United all my life, but in all my time, I have never seen anything as despicable as the behaviour of the Sunderland fans when City scored. I just thought it was disgusting, especially as we have given them about 5 or 6 players in recent seasons…" Pat is of course right that Sunderland should forever be in United's debt for United "giving" them the likes of John O'Shea, Wes Brown and Kieran Richardson in recent years, and only wanting about £15m back in return, and we can only assume if he has never seen anything more despicable, then Pat must have been on holiday when the Glazers took over, or Roy Keane tried to cripple Haaland, or when Eric Cantona was kung-fu fighting, or……
Still, that fury was nothing compared to the outburst of rage when the crowd at the Sports Personality of the Year show did the Poznan, leaving attendee Michael Owen on the sidelines for a further 3 months with a hamstring strain.
A hundred thousand City fans lined the street to welcome the champions, half a million fewer than United attracted the year before (despite a steady drizzle and a heavy westerly breeze). Carlos Tevez held up a sign declaring his desire to rip Sarah Ferguson, causing something of an outcry.
(Elsewhere, Mario Balotelli was once more in the news when an ex-girlfriend was spotted wearing bright shorts on a beach holiday in Antigua.)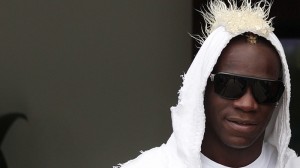 It was another year of player revolts, City triumphing despite all the members of the playing squad, backroom staff and tea lady despising Roberto Mancini. By the end, Mancini had to communicate with players via Twitter and Facebook pokes, their coolness towards him enough to reverse global warming.
(Elsewhere, Mario Balotelli was once more in the news after buying a Big Mac in Swinton (no fries).)
Yet despite this, Mancini found the time to manage Italy, Russia, Monaco and City all at the same time, if the media were to be believed, and they never lie.
After a frustrating summer, the galacticos signings of Jack Rodwell and Richard Wright eventually arrived, whilst Scott Sinclair headed north to be closer to Coronation Street. Brian Marwood was lambasted by City fans after failing to secure Lionel Messi on a free transfer. He could do nothing right, it seemed. Yaya Toure was reported to be seeking a new challenge. Sergio Aguero was reported to be unsettled and looking to leave. Mancini was close to leaving, and being sacked, throughout the year.
Joey Barton was name Arse of the Year. Rear of the Year went to Kolo Toure.
Football's name was mud in the summer though, the unsightly boil on the arse of sport, or something. Olympic fever had swept the nation, and it was all rather exciting. Even now, millions line the banks of rivers to watch regattas, and athletic stadiums are turning people away at meetings. Football struggles on nevertheless, starved of the oxygen of publicity, cruelly overlooked when the end-of-year awards were doled out. John Cross and Ollie Holt lamented the omission of Frank Lampard from the Sports Personality of the Year shortlist, and we all sagely nodded our heads in agreement at how the likes of David Weir or Mo Farah could claim to have had a better year.
The big story of the year had yet to break however. When it did, it was published by Mike Keegan at the MEN, and it sent shockwaves around the world. There had been whispers of course, as there are always are with rumours like this, but no one truly believed them. But yes, it was true – Roberto Mancini had had a hairdryer installed at the ground.
City warmed up for the new season with an impressive Community Shield victory over Chelsea, but an underwhelming start to the season has continued ever since, though that didn't prevent an unbeaten domestic run that lasted until Samir Nasri's re-enactment of the French army.
(Elsewhere, Mario Balotelli was once more in the news after badly wrapping a Xmas present at City's training ground.)
Mark Hughes' continued quest to find a club that matched his ambition continued, as he was cruelly disposed of just because he hadn't won a single game all season. The Sunday Supplement panel cried themselves to sleep.
The run-up to Christmas brought goals, drama, and near-tragedy. For days, the life of Robin Van Persie hung in the balance after an assault with a deadly weapon from Swansea's Ashley Williams. Thankfully Robin pulled through, and the FA turned a blind eye to Williams' murderous act. Naturally, Ashley Williams, a (female) lawyer from Springfield, Missouri, received numerous death threats on Twitter.
And having stared an 8-point deficit in the face, Gareth Barry planked on a Reading defender, and a day later the deficit was down to four as we reached Christmas. And so the year almost ended where it all started, at the Stadium of Light, with a goal that shouldn't have stood resulting in City's annual defeat in the north-east after a depressingly poor performance.
In Europe, it was a dismal year. Going out of the Europa League gave few sleepless nights, but another group exit in the Champions League was hugely disappointing, as City finished without a win to their name (another record broken). Mancini has probably got one more chance to get it right.
(And elsewhere, Mario Balotelli was once more in the news after a tree in his garden mysteriously shed all its leaves.)
So City finished the year with an uphill battle to retain the title, led by a manager on the brink, in charge of a group of squabbling players, against a team that are always stronger in the second half of the season. Ever get the feeling we've been here before?
But more importantly than any of that, rest in peace to all those that didn't make it through the year – despite that amazing, amazing day, we should never forget that some things are more important than some men kicking a ball around. Though admittedly, not many things.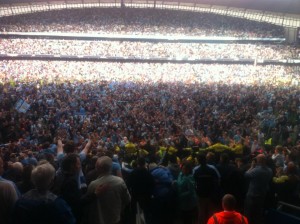 Awards
Rubbish transfer rumour of the year: Martin Lipton's exclusive that Real Madrid were poised to bid for David Silva. Or any of Ian McGarry's transfer speculation (too many to mention).
2nd place: the Daily Express reporting that City were to go back for Nigel De Jong after AC Milan had transfer-listed him. He had suffered a season-ending injury just days before.
Worst piece of journalism of year: – Kevin Pullein: If referee Mike Dean had allowed less added time at the Etihad Stadium on the final day of last season, Manchester United would have been crowned champions, not their neighbours Manchester City.
Tweet that made you shake your head in annoyance: Jeff Powell: Disappointing to see Balotelli crying (after Euros final). Should be thinking ahead to future efforts. Still young.
Bizarre comment of the year: Jacob Steinberg on Football Weekly podcast – "City's loss of a five point lead in league is the biggest capitulation in Premier League history."
2nd place – Jacob Steinberg on Football Weekly Podcast, December 2012. "Manchester City never sell out at home, except against United". Jacob then proceeded to prove this to me by showing still images from the Reading game on MOTD where empty seats could be seen. Sadly, he couldn't prove evidence for the previous 20+ home league games (that all sold-out, as did the Reading game).
Prediction of the Year: Stewart Rowson (MEN) – Two Euro predictions – Phil Jones to be surprise best player for England. Netherlands to win tournament.
Moment of the year: Aggueroooooooooooo. A ringtone was born to use for the next 20 years.
Goal of the year: Ibrahimovic v England. Keeper stood no chance (ahem). Ben Arfa's waltz through the Bolton team wasn't bad, but there was a similar goal from Neymar that was my personal favourite. Though let's be honest, for any City fan the moment of the year was also the goal of the year.
Tweets: John Cross, Daily Mirror: Great to see Yaya Toure wants to stay at Man City. A quite remarkable show of loyalty from the player on £220,000 a week, Wonder why?
This on the day that Cross's beloved Arsenal announced that tickets would be £62 for the City match. Cross had nothing to say on this.
Most boring debates of year: Zonal marking. Is Mancini leaving? Anything to do with Mario Balotelli.
Bone-headed United sycophant comments of the year: Bruce Millington – Racing Post Editor: "Alex Ferguson wouldn't lose a game with City's squad."
Followed up by: "Surprised how slow many people are to latch onto Mancini's shortcomings."
2nd place: Bob Cass: City are so much bigger and better with genuine players. Forget prima donna d***heads like Tevez and Balotelli."
Myth of the year: City wouldn't have lost any games if only Nigel De Jong had still been at the club.
Post-ironic chant of the year: "Where were you when you were s**t?"
Sat in the same seat, half-asleep. Thanks for asking, child.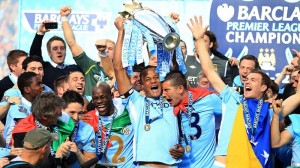 Quotes of the Year:
John Motson: "Clichy might as well have stayed at Arsenal for all he's achieved at City."
Barry Glendenning's Player of The 11/12 Season – "Vincent Kompany – one of very few reasons that neutrals might warm to Manchester City."
Ian McGarry "Seven points clear to eight points behind. I very much doubt that Sheikh Mansour will forgive Mancini and retain him as coach."
United fan Terry Christian: "Our tradition of exciting attacking football is an example to the world and every stride by a man in red is a moral victory."
Manchester United coach Rene Meulensteen, April 2012: "Manchester City don't have a well-balanced team. They only have individuals who play for themselves. You can see that they lack the right team spirit."
After Arsenal beat Manchester City 1-0, John Cross tweeted: "If Sunday told us anything, The Emirates is a happier place for Van Persie to be."
Mark Ogden article title April 2012: "Is it all getting too much for Manchester City manager Roberto Mancini?"
Alan Hansen: "Balotelli won't start for Manchester City again." (he started a game two days later).
Alan Hansen (some time in the spring, MOTD): "Manchester City are on the verge of capitulation."
Martin Samuel: "If Phil Jones impresses in midfield he has the capability to change the English game in the way Desailly did for France."
@MCFC 95. Aguero scores and wins the league!!!!!