8 Nov
This is a guest post by Howard Hockin, part of the award-nominated BlueMoon podcast and author of This Is How It Felt To Be City, now available on Kindle.
Why am I doing this? I promised myself that I would walk away, ignore the doomsayers, I would rise above the bile, I would concentrate on the football. It was boring when I wrote about him two weeks ago, and yet here I am again, talking yet again about HIM. How many times can I go through this Groundhog Day routine, peddling the same complaints, using the same swear words, spitting repeatedly into the wind?
Are any of you still there?
But talking about him I am. Or more to the point, and this is the "inspiration" for another article, other people are still talking about him. You know which player I am talking about.
Last Saturday, due to illness/injury/the credit crunch/a phobia of loud bangs, I found myself watching City at home, on ESPN. Jon Champion was to be my guide for the night, and his initial comments, "bigging-up" a lit-up Upton Park and some strained analogy involving bubbles was my first indication it was going to be a long night.
Champion was in collusion though with another unnamed man. This was the man operating the camera that panned to the bench every now and then. And by every now and then, I mean of course for most of the match.
It was just as well there were no goals, as the camera would have probably missed them, dedicated as it was to monitoring every movement of Roberto Mancini. I watched him gesticulate, I watched him mutter, I watched him stand up, sit down, slouch in his seat. I watched him eat a whole pack of Fruit Pastilles. If there had been a toilet-cam, I'd have no doubt seen him have a s**t too.
Balotelli fails to control a pass. Pan to Mancini. Balotelli shoots wide. Pan to Mancini. Balotelli looks moody. Pan to Mancini. Balotelli adjusts a sock. Pan to…well, you get the drift.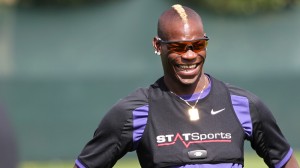 And all the time, we have the soundtrack to this desperate attempt to create a story, willingly provided by Champion. Snide comment after snide comment, suggesting disharmony in the ranks, a troubled relationship, an accident waiting to happen. Oh look, Mancini is YET AGAIN giving Balotelli instructions on the touchline. Time to stir that pot once more. What could he be telling him? Let's idly speculate, and fear the worse.
"Hey Mario, you terrible striker, I hate your shooting. Your mamma she smells, and she make terrible pasta."
And then, the inevitable Balotelli substitution. Dzeko surely merited being whipped off more than the mercurial Italian, but never mind. Balotelli had been wasteful in front of goal, along with all of the City team. He had played OK, and that was that.
"Let's monitor the Italian's reaction," squealed Champion, in eager anticipation. OH. JUST. F***. OFF.
The camera lingered long and hard on the touchline as he wandered off, and took his seat. Damn, no storming down the tunnel. Obviously he would have done had it been a home match. Hang on a minute, look at the aggressive manner in which he is putting on his coat. Camera 2, keep on Balotelli. Is he muttering something? Jon, say that's he's muttering something. Try and mention Italy, and fireworks. Try to zoom out to show Mancini. Hold it. Keep filming. What, we've missed a goal and a red card? Ah, bugger.
And that was that. An honest, yet dedicated attempt at a hatchet job by ESPN that sadly failed. Better luck next time, eh?
But no. That wasn't that. Wrote Alan Hansen in the Telegraph:
"…here we are again talking about Mario Balotelli spitting his dummy out after being substituted at West Ham."
No we're not, Alan. What "we" are doing is watching you continue your incessant, bile-filled campaign against Mario Balotelli. No one is talking about a Balotelli spat except you. There was no dummy spat out, no bust-up, no story. As football365.com pointed out, this continued story of bust-ups is boring even when Balotelli does something stupid – when the press start fabricating stories, it becomes something altogether more sinister.
Mike Walters over at The Mirror continued the theme, in a match report under the headline "Surly Kings: Mancini and Balotelli swap knees-up for bust-up in the East End".
Mario Balotelli collected his customary bonfire night accolade from Roberto Mancini – a rocket up the arsonist.
Now you have to admit, those last four words are side-splittingly hilarious. The punning skills of Tim Vine, with the eloquence of Wilde, and the style of Keats. I won't bore you with the other 85 tedious firework analogies, but be warned, even after that pitiful start, the report gets much worse.
"The great pyromaniac chuntered sweet nothings behind his manager's back in the dugout after being hooked for squandering two simple chances."
That's it. There's the bust-up story in all its glory. And yes, substitutes and the substituted do tend to sit behind the manager's back, you stupid piece of ****.
There was no love lost between City boss Mancini and Balotelli.
<sobs gently>
Between their dismissive hand gestures and dark muttering, there were more sparks and sour aftertaste than that Tommy Cooper gag about police collaring two kids who swallowed battery acid and a firework: they charged one and let the other off.
Is this a wind-up???!!
I could go on, but you've probably all gone by now anyway. There is only one solution to this.
Please sell Balotelli, Mr Mancini. I can't take another three years of this. I'm not getting any younger, and I need the circus to go. It's outstayed its welcome – the grass has long worn away, there's a funny smell, and people have started acting really strangely. Many of the press don't seem to like you either Roberto, so I'm afraid you'll have to go too. It's for the best. We'll get Harry Redknapp in, he can bring a good,honest striker like Jermain Defoe with him, and everyone can love us again. and we can fight for glory despite a lack of tactics and Harry being down to the bare bones. No hard feelings eh? It's for the best.