13 Oct
First of all, thanks for all the entries. I certainly had a great laugh reading through them and I'm sure you did too!
Many thanks once again to Savile Rogue for their generous sponsorship of this competition and for providing their new cashmere King scarf in City colours as the winning prize.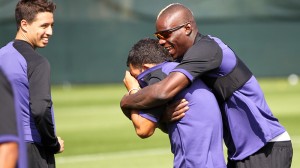 In third place was Carl Wood:
"Carlos, please show me one more time, how do you get a bib on."
In second place was Darren Maher:
Carlos and Mario haven't quite mastered hide and seek yet…
In first place and the winner of a City cashmere scarf worth £65 is Trevor Smith:
"Carlos, look I know you've lost weight, but I told you a Medium would be too small!"
Congratulations from View From A Blue! Well done!