27 Sep
On the 13th May 2012, Manchester City scored two very late goals to secure their first league title since 1968. But not everybody who took their seat inside the Etihad just over ninety minutes before bore witness to this now iconic five minutes of football. Because, stupidly, they had left the stadium.
These were probably the same fans who sat glum-faced on the Tube back in '99, cursing Carl Asaba as Paul Dickov stabbed one past his best man and sent one half of Wembley into raptures. Or the ones who ducked out of White Hart Lane at half time in '04, only to miss one of Jesus's most recent miracles, the power of the Lord channelled into the forehead of Jon Macken.
In short, good stuff happens at the end of football matches. Moments that decide outcomes of whole seasons often come right at the end of games, and yet there are hordes of fans who insist on leaving games early. When Laurent Koscielny crashed home Arsenal's equaliser on Sunday afternoon, the reaction from the City fans was, as to be expected, a little muted. But there was no follow up roar of encouragement, nobody bothering to point out that in a game full of chances, there were still eight minutes (plus stoppages) to create and convert one more.
As home supporters and Champions of England(™), this is unacceptable. Yes, Arsenal's celebrations were a little excessive. Indeed, the carnival they enjoyed at the full time whistle was not too dissimilar to the Madness at Stamford Bridge after Chelsea won the league last December.* But the very nature of the home/away divide demands a response from whichever side is on the ropes. Yesterday, that was City. But the response didn't come. Not even an overhead kick from a man with a giant forehead could prevent the traffic beaters, quick pinters and don't-like-the-rainers from making an early dash for home.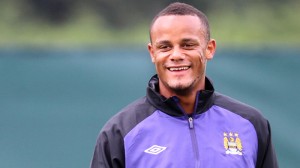 Now this may not prove too popular an opinion, but such an exodus would not be seen at Trafford Park. The stadium was swiftly vacated during a derby match (apparently) last season, but that was an extreme example of abject public humiliation, a humiliation that would test the resolve of even the hardiest of City ultras. Put them in our shoes, however, with the score at 1-1 with eight minutes remaining, every one of those BEL19VE t-shirt wearing morons inside that ground would have stayed and willed their side on. Over there, they expect to score again. And because they expect it, they do it.
City were below par on Sunday, and were perhaps fortunate to escape with a point. But no football fan cares about how 'deserved' a win is. They just want to see one. The players may not have been at their best, but deserved much more backing from a home crowd they've shielded from defeat since December 2010. It's no good wearing a #TOGETHER wristband if you're halfway down Grey Mare Lane when the fourth official lights his board up.
So next time you feel the twitch when the clock ticks to eighty, think about Paul, Jon, Edin and Sergio. Not quite the Fab Four, but proof enough that you might see something special if you stay to the whistle.
*won a home match against Manchester City.
This is a guest post by Casey O'Brien, in his own words an "over-ambitious student with delusions of literary talent. Cried at Wembley in '99 because my dad did; repeated 12 years later. No face tattoos or dogs named after ex players, but fiercely loyal to MCFC."