30 Jul
Variety is the spice is life, and it's what Roberto Mancini needs to keep his side as unpredictable as possible for the season ahead as City plan to fight on four fronts.
During the last campaign City endured a few games where they looked incredibly static and had run out of ideas, with players hoping that David Silva would be able to produce something out of nothing. Even a man of Silva's qualities was unable to win games single-handedly and after another eventful summer for the Spanish magician, it is more important that the club reinforce their forward-line for what should be a gruelling campaign. The answer to Mancini's problems would be to bring in a winger, allowing City to spread the play rather than repeatedly going through a cramped central midfield.
At the start of the season, the Blues looked unstoppable as they smashed five past Tottenham and six memorable goals against United, but this level of form wasn't sustained as City struggled to overcome the likes of Everton and Swansea away. There were a variety of reasons for this, including the absence of Argentine forward Carlos Tevez, who would have provided an important variant for the Italian, but he instead decided to use his skills on the golf courses of Buenos Aires.
Of the forwards who did decide to stick out the entire season, they suffered a knock-on effect from having to play extra games and minutes. Silva looked particularly tired at times and was carrying an ankle injury which meant he was unable to play at his majestic best for the winter months. Samir Nasri blew hot and cold, whilst Mario Balotelli was his usual unpredictable self – on his day the Italian was deadly, but on others looked like a kamikaze pilot on speed.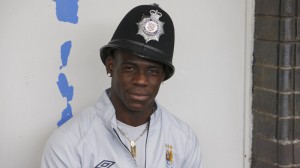 Bosnian target man Edin Dzeko was limited in a system that wasn't built around his aerial strengths. He took the league by storm in August and September with a flurry of goals, but once they dried up, the 26-year-old striker spent a lot of time on the bench, whilst being ineffective when given the opportunities. The man needs crosses to score and the majority of his strikes for City have come from wide play. This is one of the many reasons why Mancini is eager to acquire a winger, as proved by his desire to obtain Eden Hazard from Lille.
Being shunned by Hazard has forced Mancini to cast his net further afield for a new man to provide the ammunition from the wings, as Adam Johnson had a disappointing season and would be sold if the club received a suitable bid. His relationship with Mancini has always been fractious due the former Middlesbrough man's questionable lifestyle and inconsistency on the pitch. Despite this lack of faith in Johnson, there is a way back for him as he has a lot of ability, which has infrequently flickered, but not enough to justify him playing more games; due to the lack of potential signings, Mancini may be forced to reconsider Johnson as his main wide threat this season.
The summer has been a quiet one for the Blues with incoming traffic at Carrington nigh on non-existent, and whilst the papers have talked of the likes of Robin van Persie and Thiago Silva, links with attacking midfielders have been few and far between. Signing like-for-like replacements would be almost impossible due to the quality of Silva and Nasri, but at the same time in modern football, it would be preferable to sign players who can offer a different style on the pitch. The match against QPR was evidence of how City can lack a Plan B, when the likes of Pablo Zabaleta and Gael Clichy were putting in a collection of low grade crosses that were easily defended, whereas a designated winger would be preferable for the future success of the club.
Ultimately, City are the rightful Premier League Champions and don't need too much tinkering to what is a stellar squad of star individuals, but an increase in variety could see the club reap greater rewards both domestically and on the continent, and it's up to Mancini to find a suitable winger to provide that for the fans.
This is a guest post by Will Unwin, a football journalist who has written for The Guardian, Daily Mirror, ITV.com and The Independent.