23 Jul
It's started. The new season is creeping nearer and nearer, and like snowdrops on verges signalling the start of spring, Alex Ferguson's mind games have begun, and August will soon be upon us. Add to the mix reports from his few remaining sycophants of him "looking fresh, and ready for new challenges", and we're good to go.
But this time, something is different. This time, he has, to put it in as mild terms as possible, urinated on his own doorstep, and it has not gone down so well. It's not the first time he has done it, but the response has been vociferous.
But first, to the drivel spouted about Manchester City, and United's "history". We're used to this drivel by now, not just from him but many a manager, but the stuff Ferguson spouted this weekend at a press conference was on a new level, so ridiculous that it was impossible to get worked up. The result, as it turned out, was laughter and sarcasm aplenty.
"If you look at the team I could play under 23. You could play De Gea, Rafael, Smalling, Jones, Evans, Cleverley, Powell, Chicharito, Lingard, Welbeck, Kagawa."
Of course any team could play a team of youngsters, but never would (in the league), just as Ferguson will never play the line-up listed above.
"You see, the difference between Manchester United and the rest is that we can play 18 year-olds if they are good enough, because it is part of our history. It seems to be a sort of destiny for us that when a young player emerges, play him. It's never failed us."
Staggering stuff. United are the only team that put emerging players into the first team, and those players are always an unparalleled success. They are the only team that play youngsters that are good enough.  But then there's no point other teams trying out this novel approach, as they don't have United's history, or destiny on their side. Of course, this moral crusade seemed to evade them when breaking transfer records for the likes of Juan Sebastian Veron, Andy Cole or Roy Keane.
And as football365.com pointed out, last season United gave a total of nine substitute appearances in the league to 18-year-olds, while Paul Scholes and Ryan Giggs made 42 appearances between them. Such a reliance on youth that Paul Pogba and Zeki Fryers left the club to find football elsewhere.
"There's not many clubs can do that. City won't do it. They definitely won't play any young players. All the buys are 25, 26, 27-year-old players, good maturity, right type of age. But they don't play any young players."
Historically, Premier League clubs have never bought the finished article, a world star. Times may be a changing, but if you look into the archives you won't see many players at the top of their game coming to the Premiership. Many became stars of course, but they arrived as potential most of the time.
But in Ferguson's world, it is United that are the trailblazers. Only they bring through youth. Not Arsenal, who have never played youngsters, and definitely not City, who brought through a whole raft of youngsters under Jim Cassell's guidance. No doubt they are the chief exponents of tika-taka football too, and total football was Mike Phelan's baby, whilst Martin Edwards was the first chairman to provide players with shin pads.
Of course with City's old academy, the quality was not enough for the current owners' ambition, hence the development of what is planned to be one of the best academies in the world, so that City can bring youth through, with the intention of local talent shining through too. But remember, only United do this. Ferguson said so.
United had one unprecedented batch of young talent come through with the emergence of Giggs, Scholes, Beckham etc, and have lived off that since as proof that they utilise youth more than anyone. Of course youth players have progressed since, as they have at every club. It's a grey area over whether teams have developed players that they bought young. United can't be said to have discovered Phil Jones (Blackburn Rovers), De Gea (Atletico Madrid) or Smalling (Maidstone, Fulham), as they were well known when bought. So what if they are young? In the same way, City made Joe Hart the player he is, but Shrewsbury Town will want a say in that particular debate, just as Oldham would when discussing Micah Richards. Not that City bring youth through of course. Most of United's youth prospects have not "emerged" at United, but developed elsewhere on loan. That's fine, but let's not re-write history to show them breaking straight into United's first team, as part of some magical process guided by fate.
The lie continues with comments on how City buy 25-27 year olds. Like Sergio Aguero, up for Young Player of the Year last season. Or Mario Balotelli. United don't buy established players of course – let's ignore that they tried to sign Samir Nasri last season. Or that they were after Eden Hazard just like City. Or wanted Wesley Sneijder. Nope, United do it the right way. Well, apart from going for Robin Van Persie of course. Or snatching Dimitar Berbatov from under City's noses by whisking him away from Manchester airport. And we can overlook Ferguson bringing a 37 year old out of retirement, then giving him a new contract along with Ryan Giggs. It's probably best to ignore too the fact that of the two teams contesting the Manchester Derby on 30th April 2012, United's starting line-up had a higher average age (by two years at that).
Piffling details.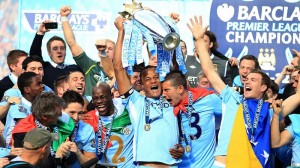 "What we're finding is that the climate of buying these top players is that it's not just the transfer fee; the salary and the agents fees are getting ridiculous now. I mean Hazard, Chelsea paid the agent £6m. Nasri's agents were the same."
Of course, when United could outspend every other team, this was less of a problem for Ferguson. Now that money is harder to come by, there is suddenly "no value in the market". In fact his comments are even stranger considering that only recently he allowed Bebe's agent to pocket £2.89m for the player's move to Old Trafford. Oh for the good old days of using his son as an agent instead, though the BBC might disagree about that. Ferguson's basic claims about agents are sound, but this is the world we live in now – he should stop using agents to cover up the cracks.
The truth is they often buy young because of the restraints of the Glazer regime, the regime Ferguson is so keen to defend, and it's these comments that have caused the upset.
"I don't have any complaints. They've always been as helpful as they can in terms of financing the team…the majority of real fans will look at it in a more realistic way and say 'Look, it's not affected the team, we've won four championships since they've been here; we've won the European Cup'."
And he's right to an extent – United have continued to be successful under the Glazer regime. But everyone knows that is down to Ferguson's skills as manager rather than the investment in the team. By claiming "real fans" are those that appreciate the Glazers, he has caused a storm from loyal supporters, and you have to wonder what on earth he was trying to achieve by saying such things. To suggest that any United fans that are anti-Glazer are not real fans is not only a lie, but insulting and disrespectful to those that were there before Ferguson and the Glazers, and will be there long after them too. It's also a strange definition of a real fan – supporting the owners whatever they may do, rather than simply supporting your team home and away over a period of decades. Shows what I know.
But at the root of all this is surely a level of guilt on the part of Ferguson. After all, it was his disputes with the previous owners that brought the Glazers to power. It was his greed that led to this situation, his refusal to keep such disputes away from the club he worked for that changed everything, that led to the setting up of FCUM, of anti-Glazer campaigns, of hundreds of millions of pounds being drained out of the club, year-on-year.
Oops.
With the money that has gone to pay off debt, United could have bought Wesley Sneijder. They could have Eden Hazard too. They could have paid their wages, made their agents very wealthy men indeed, and had enough left over to expand the stadium, buy a few more players on top and half season-ticket prices. I'm no master of mind games, so am at a loss to explain what was behind Ferguson's weekend comments. But apart from attracting ridicule from fans of other teams (not that he would care), by criticising his own once more, he is playing a very dangerous game indeed. Even with his unparalleled track record, there is only so far sentiment will go. Cheap vibes against the noisy neighbours is one thing, but by defending his paymasters so vehemently, Ferguson is in grave danger of tainting his legacy.
This is a guest post by Howard Hockin, part of the award-nominated BlueMoon podcast and author of This Is How It Felt To Be City, now available on Kindle.