2 Jul
Described as an "authoritative, provocative and investigative account of Manchester City's history", Richer Than God is a fascinating read, telling the tale of David Conn's support for the Blues as a child to his now distaste of "today's moneyed, seated, global entertainment business."
Despite Conn's evident dislike of money and its significance in the modern game, the most powerful message I will take from the book is that of his admiration for our current owners. Following the catastrophic ownership of Franny Lee and Thaksin Shinawatra, to name but two, there is now the ultimate professionalism and capability of Sheikh Mansour and particularly Khaldoon Al Mubarak.
In the book, Conn tells how he grew up as a City fan, "transfixed by sky blue heroes" but as he starts life as an investigative journalist and becomes aware of how football is not a game but a business, his love quickly disappears as he becomes obsessed with analysing the role and impact of money in football. The press release for Richer Than God states how this is a "labour of love from a lifelong Manchester City fan" but as he talks about how disenchanted he became with supporting the Blues, it is clear this is not the complete truth.
When talking about how, in Germany and Holland, the professional football clubs have always been at the centre of true community sport complexes, Conn mentions how "if English football was organised like this, the clubs owned by member-supporters and devoted, truly, to being leaders in sports participation in an area, my club would be one to which I would still be proud to belong. But I do not want to live submissively, giving thanks to some superstars, bought by Sheikh Mansour's millions, who would otherwise never have come to Manchester City except, possibly, for an away leg of the Europa League."
There is clearly still some affection and feeling from Conn towards City and, indeed, he talks about welling up in the car as he drove to the Etihad Stadium for the final match of the last season, against QPR, and about "getting very emotional" as he chatted to fans outside the ground but this is most definitely not the story of a passionate City fan, one who has unquestionably supported his club all his life. Despite wishing that he was on the pitch after the QPR game, when fans poured forward hoping to grab some players for euphoric hugging, there is no mistaking the sense of separation he feels.
At times in the book, there are mixed messages. Again, with regards to that memorable QPR match, Conn talks about clenching his first and roaring when Aguero's goal went in and wanting City to win for all the loyal fans. He wanted them to "go home happy just this once, and for a great football story to happen" but as young boys were singing in celebration, he wondered what moral this actually sent to them: "reach for the stars, work hard, always keep going to the very end – and get a sheikh to put in £1bn."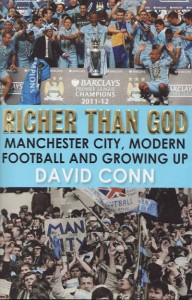 Focusing on the 'chaotic' reign of Shinawatra, Conn talks about how there was 'little investment in the fabric of the club', the staff working downstairs in Carrington "in offices which had no windows". He quotes Vincent Kompany as saying "at the time I signed, I was supposed to meet the owner [Shinawatra] but then I was told he had to cancel it to go into hiding somewhere. It was a bit of a funny situation."
That could not be in more direct contrast to our current owners and the excellence and respect with which they go about business. The first thing they did, according to Conn, was to employ consultants to examine every area of the club's operations and assess the improvements needed. This, although seeming obvious, was something which previous regimes had startlingly failed to do. Al Mubarak talks about finding the club in an "amateurish" state "without basic functions" such as a human resources department or chief finance officer.
According to Conn, the new owners '"showed an appreciation of the fabric of the club", recognising the loyalty of the supporters through decades of disappointment. They celebrated the history of City, tried to "humanise the stadium" and communicated with the fans. Conn sensed that apart from the money and the confidence that it imbued, "they were genuinely thrilled to own a Premier League football club that had as much depth, character and complexity as Manchester City."
Khaldoon Al Mubarak in particular comes across as an impressive individual although he admits to being taken by surprise by the level of exposure the takeover received. Despite completing some "amazing deals" with his own companies, Al Mubarak reflected that he "completely underestimated" the City deal, recognising it would be high-profile but "nowhere near what it actually transpired to be."
There is further in-depth talk about the sacking of Mark Hughes, how it was handled and the acquisition of certain players. Conn provides a detailed look at how City came to claim Eastlands as their home and the tenures of various chairman. He places the current story in the wider context of the club's "patchy modern history", and in doing so depicts the paradigm of English football's transformation.
It is, as already stated, a fascinating read, one which should reassure all City fans about the current owners but also informs about the club's history. Although it doesn't always portray City in a positive light, for the detail, research and insight that it provides, I would have no hesitation in recommending Richer Than God.
Richer Than God, by David Conn, is published by Quercus and is available to purchase here.