25 Jun
The title-winning season is over and thoughts are already turning towards a new campaign, so what better time to assess which areas of the squad need freshening up and who might leave.
Attack
Having been the team who scored the most goals last season, it might seem greedy to want to strengthen the forward line, but it is, in my opinion, something that needs to happen. We had four strikers who all chipped in at various stages of the campaign, but rumours have been aplenty that at least one of that quartet will move on.
Not too much needs to be written about Sergio Aguero. He scored 30 goals in his debut season, was voted as player of the year by the fans, will be an automatic first choice in the side and rightly so.
The other forwards, however, cause more debate. Mario Balotelli receives an inordinate amount of criticism, mainly due to his temperament and volatile nature, but what is often overlooked is his scoring ratio. In terms of minutes played and goals scored, he was second only to Papiss Cissé last campaign and has proved throughout his City career that he is a player for the big occasion. He offers something which we lack in the side – pace – and with Roberto Mancini having such a close relationship with Balotelli, Mario is sure to stay.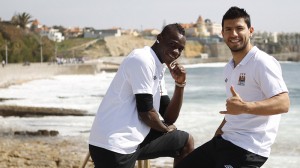 Carlos Tévez is possibly the most intriguing case. Clearly, everyone knows about that infamous night in Munich and what happened afterwards but when he returned to the squad and the side, he fitted in superbly. Whereas it was perhaps felt that our style of play had evolved into a more fluid, passing game, Tévez was able to add that spark and linked up impressively with Aguero.
If Tévez were judged purely on footballing reasons, there is no doubt that we would benefit from him staying, but I think it would be best for all concerned if he were to leave. His behaviour last season was disgraceful and even if he momentarily patched up his relationship with Mancini, the feelings still lingers that it's a bust-up waiting to happen. Surprisingly, there haven't been too many rumours of his departure, but if a decent offer were to come in, I'd like to see him leave.
The final striker from last season was Edin Dzeko, someone who displayed moments of brilliance but they were all too often interspersed with lengthy periods of mediocrity. The Bosnian's main strength is his aerial prowess but as we don't play with conventional wingers, he suffers from a lack of crosses into the box.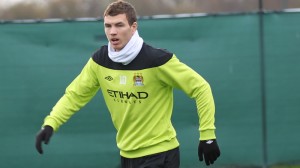 As a result of our style of football, he is then forced to drop deeper to pick up the ball and link play, something which is not his forté. His goalscoring record, on the face of it, looks impressive but he's too inconsistent at the moment. He's the type of striker who hits a rich vein of form and scores five goals in five games but then loses confidence and can easily go ten matches without finding the target. At the level City are at, that, for me, is not good enough and although he has shown potential, he is not certain to be in Manchester for the start of the next campaign.
A number of German sides have been linked with him and with the possibility, too, of Tévez leaving, it means there is space for at least one addition. The likes of Robin Van Persie, Edinson Cavani and Gonzalo Higuain have been regularly mentioned with regards to joining the Blues, but it is impossible to predict now who exactly will be added to the squad. Rumours will only intensify as the new season draws closer but it promises to be a summer of mild tweaking rather than a vast overhaul.