4 Jun
Game of the Season – In any other season, this would have undoubtedly been the 6-1 humiliation of Manchester United at Old Trafford. It's a ground where they rarely suffer defeat, but we went there and produced a quite remarkable display, embarrassing them in the process. But as much enjoyment and pleasure as that provided to City fans, it could not possibly top May 13th and the QPR match.
Heading into the game, there was a feeling of cautious optimism. Pablo Zabaleta's goal should have settled us down but then Djibril Cissé scored. And then Jamie Mackie scored. And then there was deathly silence. The title was in our grasp but we had thrown it away. Typical City sprung to mind. But Dzeko's header gave us a glimmer of hope and Aguero then scored to turn dreams into reality. Pandemonium, rare emotion, pure joy and ecstasy. It was a feeling that will never be replicated at a City game again.

Signing of the Season – Naturally, and with just reason, it would be easy to look in Aguero's direction at this moment. A debut season in which he scored 30 goals, displayed his enormous talent and settled in well to Manchester ought to be recognised, but since he features in plenty of other categories, I'll award this one to Gael Clichy.
The Frenchman joined from Arsenal for around £7million at the start of the season and impressed everyone with his consistently strong performances. There were some doubts about his defensive nous when he signed but he's solid at the back, denying the opposition winger space to cross the ball and proving reliable with regards to his positioning. Going forward, he's a ball of energy, someone who is just as happy bombing down the left in injury time as he is in the first minute. He's been a bargain signing and will only improve.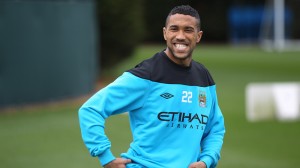 Disappointment of the Season – For the first few months of the season, I felt hugely underwhelmed with Samir Nasri. He seemed to shirk responsibility, let games pass him by and was largely uninspiring. He did, however, improve as the season wore on and was a threat in the final few games. Stefan Savic would be the easy target but it's worth remembering he's only 21 and has shown enough potential, in my opinion, to persevere with. Interestingly, only one of his 19 appearances was in partnership with Vincent Kompany, a leader and talker in defence who would have guided him through a game.
Instead, I'll choose Aleks Kolarov as the most disappointing player. His fans will point to freekicks against United and Napoli, as well as the equaliser at home to Sunderland, as signs of his positives but you need more attributes than being able to kick a ball hard. He's a liability in defence, has no pace or positional awareness and is nowhere near the level we require. He will hopefully be moved on in the summer.


Worst Moment of the Season – The truth is that this could probably be any moment between Jamie Mackie's header to give QPR the lead on the final day of the season and Edin Dzeko's equaliser. Having had the title in our grasp, leading at home against the side with the worst away record in the league, it should have been a formality but we should have known better!
However, since many of these awards could relate to that QPR game, I'll say that the immediate aftermath of the defeat away to Arsenal was the worst. The deficit to United was eight points at the time and I don't know a single City fan who retained any hope that we could lift the title. Obviously, matters improved but at the time it felt terrible.


Stat of the Season – Apart from the usual ones, there are some amusing stats from this season. For instance, Luca Scapuzzi, having scored on his only appearance against Wolves in the Carling Cup, had the best goals per game ratio of any City player. Owen Hargreaves had a passing success rate of 100% in the Premier League, whilst Costel Pantilimon saved every penalty he faced.


Goal of the Season – Again, it would have to be Aguero's against QPR for sheer importance and the celebrations that followed but that would be repetitive so I'll look elsewhere. There were some superb strikes in terms of their individual quality, such as James Milner's at home to Aston Villa when he spread the ball 70 yards out to Adam Johnson before receiving it and guiding it into the corner. Goals from Yaya Touré, with the opener away to Newcastle, and Samir Nasri, with the late winner at home to Chelsea, stand out for their importance, but for pure team work, I'll give it to Adam Johnson for the sixth at Carrow Road.
Sergio Aguero picked the ball up out wide on the right and sent a pinpoint, searching ball into the penalty area for Gael Clichy, who cushioned it perfectly into Johnson's stride to guide it home. It was a brilliant team move and encapsulated everything that was good about City in the final month of the season.


Pass of the Season - Not a particularly common category, but I just wanted to highlight David Silva's mouth-wateringly delectable pass to Dzeko for the 6th at Old Trafford. Controlling the ball before volleying it perfectly it Bosnian's path, it was a joy to watch.


Player of the Season – This could quite feasibly be one of six or seven players and that is the reason why we won the league. There have been consistently superb performances from a number of members of the squad, not least Joe Hart, Vincent Kompany, Joleon Lescott, Gael Clichy and Yaya Touré, but my top three are David Silva, Gareth Barry and Sergio Aguero.
The Spaniard's displays in the first half of the campaign were nothing short of magical and although he suffered a blip in form from Christmas onwards, his early showings should not be forgotten. Barry, sitting in front of the defence, was exceptional throughout, mopping up everything in midfield and enabling the more creative options to influence the game. But, for me, the player of the season was Aguero. To score 30 goals in his first year was an incredible achievement, but his game is about so much more than just scoring. We are fortunate to have him and the scary thought for opposition defences is that he will only improve.


Best Moment of the Season – Sergio Aguero. 93rd minute. QPR. Need I say more?