27 May
With the title-winning 2011/12 season now over, what better time than now to analyse the performances of each inidividual throughout the campaign. The analysis of our goalkeepers is here, the review of our defenders here and the summary of our midfielders here.  
Edin Dzeko: 42 games, 18 goals – A wildly inconsistent presence up front, at times looking like a world class target man yet often resembling a more expensive version of Bernardo Corradi (without the inventive goal celebrations). When on form, as he was in the 5-1 drubbing of Spurs, he seems to be the perfect striker: strong in the air, pacy over twenty yards, a natural finisher, brings others into play, links well with those around him. But then he goes a game without scoring and loses all confidence.
At that stage, he is abysmal. His first touch is hopeless and it's a struggle to see him toil away. He's someone who benefits from crosses into the box which he can then attack such is his aerial prowess, but that isn't the way we play and he suffers as a result. Scored the important equaliser against QPR to provide a glimmer of hope but there are strong rumours linking him with a move away from the Blues. Season Rating: 7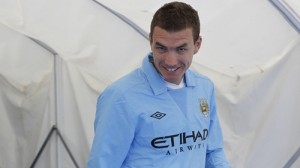 Carlos Tévez: 15 games, 4 goals – As with all of our strikers, I could dedicate a whole piece to Tévez rather than just a couple of paragraphs. Even before 'that night in Munich', he had made a poor start to the season. He had returned late from international duty and was struggling for match fitness, missing a penalty against Wigan and generally lacking sharpness. Then came the debacle in Germany.
He decided to solve the problem by heading off to Argentina to work on his golf swing, letting down his manager, teammates and fans in the process and leaving the other players to put in extra hard yards throughout the season to make up for his absence. He did return eventually, setting up the winning goal for Nasri against Chelsea and making an impressive impact in the final six games of the season. The quality on the pitch is still there, as it always has been, but I believe it would be best for all concerned if he were to leave in the summer. Season Rating: 5
Mario Balotelli: 31 games, 17 goals – Ah Mario. A season full of fireworks, T-Shirts, moments of madness, glimpses of talent, *the* most important assist and more. If we remove his off-field antics from the equation, it's been a decent season for Balotelli. His goals return is excellent bearing in mind the number of games he has played and he has shown, yet again, what a big-game player he is. The opener against Everton, the strike away to Napoli, the last-minute penalty v Spurs, the first one at Chelsea, the opening couple in the 6-1 and then his impact in the final game versus QPR all spring to mind, highlighting his talent and potential, but making it all the more frustrating we don't witness it on a more regular basis.
And then you throw in his volatile temperament, the red card v Arsenal and the stamp on Scott Parker and you realise he is such a complicated character. If, and that is a huge 'if', he settled down, matured and started to make the most of his undoubted ability, we would have a world class player on our books, but patience amongst many fans is wearing thin. I certainly feel he's worth persevering with as there aren't many players who get you on the edge of your seat and offer a genuine goal threat as such a young age but he does need to buckle down and understand what he must do. I, for now, have faith in him. Season Rating: 7
Sergio Aguero: 47 games, 30 goals – My player of the season and that was decided even before the goal against QPR! A superb campaign by anyone's standards, it was made even impressive by the fact it was his first in the Premier League and he is only 23. To score 30 goals is an incredible achievement and the one that turned our dreams into a reality encapsulated why these top players cost so much. The composure in taking the extra touch to avoid Taiwo's challenge was phenomenal and he has forever written his name into City's record books.
But his overall game is about more than just goals. Added to his nine assists was his movement, constantly stretching the opposition defence, making space for himself and for others. He is the ultimate team player, working hard at closing down the defence, linking up superbly with those around him and he seems a wonderfully natured character as well. We are incredibly fortunate to have him. Season Rating: 9