15 Jan
The View From A Blue mobile app is now available to download on iPhones, iPads and Android phones. It features updates from this blog, the official MCFC website, BBC, Sky Sports, the Premier League, YouTube, Twitter and Facebook. Search for 'viewfromablue' in the appropriate market.
After a pair of disappointments in cup competitions, it's time to return to domestic action and grasp the opportunity to establish our lead at the top of Premeir League table. A visit to Wigan, on paper, should prove a relatively simple one and ought to be a perfect chance to restore our three point advantage, but having been defeated in our past two matches, it will take a certain amount of character and belief to bounce back.
With Manchester United winning again at the weekend, returning from the DW Stadium with a victory is imperative and we should have the quality to accomplish just that. One aspect where we've struggled recently is trying to break sides down when they've packed the midfield and defence, but Wigan are a side who enjoy playing attractive, open football and that should suit us. Were it to become an open game, the extra ability our players possess should be in evidence and few would bet against us.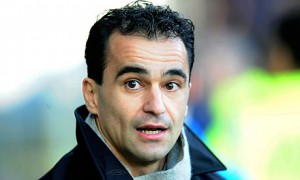 Looking at team selection, and there are a couple of interesting dilemmas for Roberto Mancini. Notably, Stefan Savic looked unsure against Liverpool and although I have high hopes for the Montenegrin in the future, I'd like to see Nedum Onuoha given an opportunity. That, however, is unlikely to happen to it's vital that Joleon Lescott, as the more experienced centre-back, takes command. Aleks Kolarov is likely to replace Gael Clichy, with Micah Richards set to play as captain.
In midfield, Nigel De Jong has been below-par in the past couple of games and could miss out, but David Silva has trained the past two days and should start. Edin Dzeko is fully fit again and could take his place up front, whilst Samir Nasri, who looked sharper against Liverpool, has been superb by all accounts in training this week and may well come into the side.
Here is the team Mancini could select: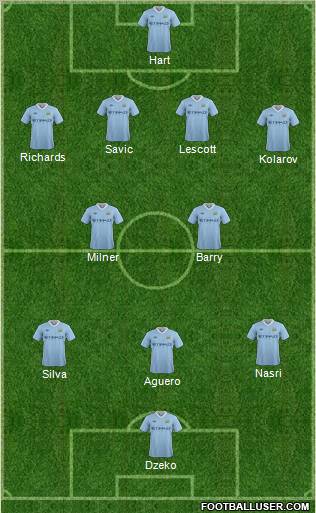 Wigan have struggled this season and currently lie bottom of the table. In Victor Moses and Hugo Rodallega, they possess talent going forward but have had trouble keeping clean sheets and have lost to City on the past four occasions without scoring a goal. They aim to play aesthetically pleasing football and ought to be commended for that, but unless they rectify their defensive errors, it could be a challenge avoiding relegation.
Referee: Martin Atkinson – He was also the official earlier in the season when Sergio Aguero scored a hat-trick as we defeated Wigan 3-0, whilst he officiated in our games against QPR (2-3) and Liverpool away (1-1) when he controversially sent off Mario Balotelli.
Prediction: Wigan 0 – 2 MAN CITY – Depending on whether Wigan continue to play pretty football or decide to pack the midfield and defence, it could be quite an entertaining and open affair. Goals to be scored by Edin Dzeko and Sergio Aguero.