31 May
Our incredible season is over, and with third place and the FA Cup under our belt, here are my season ratings. Click here for ratings on goalkeepers and defenders.
De Jong - A contender for player of the season. Came into this campaign with his reputation damaged after what happened in the World Cup final, but anyone who has watched even a handful of City's games this season will realise just how vital he is to our team. Picks up the pieces in front of the defence, making crucial tackles and blocks, but it is his passing which has improved immensely. Starts many of our attacks, and his performance in the FA Cup final was monumental - 8.5
Barry - Takes an unfair amount of criticism from those who don't watch him play week in week out, but his contribution to the side and his selfless work in midfield is much appreciated. Not the quickest, but his distribution is tidy and alongside De Jong, performs a good job in protecting the defence. Plenty of experience in important matches and he will be a useful squad member next year - 7

Vieira - His impact as a second half substitute against Spurs in the match which clinched our Champions League qualification cannot be overlooked. We were firmly on the back foot when he came on, struggling to get out of our own half, but he used all of his vast experience to drag us forward and confirm our place in the top four. Not the most productive season for him in terms of minutes played, but his knowhow around the squad has been invaluable. Acts as a father figure to Balotelli, and although he won't get much playing time next season if he stays, I'd like him to remain at the club in one capacity or another - 6
Milner - Was sensational on his debut against Liverpool but found the going slightly tougher after that. Often played on the wing against the better sides, when his defensive work was needed but it's clear that his best position is in the middle. Looked impressive whenever he played there, with his energy and drive to the fore. Will face a battle to get in the side next season, but he'll relish the challenge - 6.5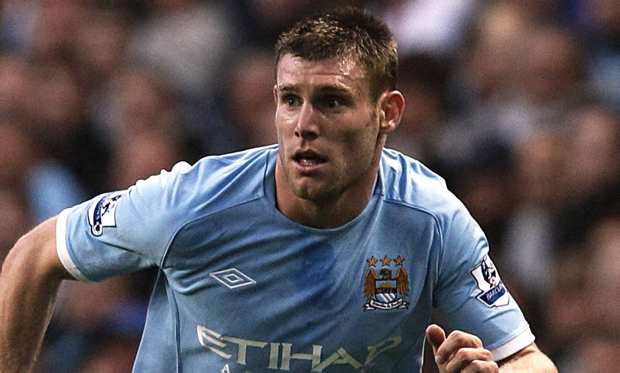 SWP - The likelihood is that he will leave in the summer which would be a shame in the sense that he's a huge fans' favourite. However, he's not the type of player who can sit on the sidelines for a while and then turn it on when necessary on the pitch. Not good enough to get a starting place and he will, at this stage of his career, want first team football - 6
Y. Touré - At times, when he uses his pace and power on his surging runs forward, he's unstoppable. Showed he's a player for the big occasions with his goals at Wembley against Manchester United and then Stoke. Linked up well with Balotelli especially, and has a decent touch for a big man, but needs to learn that he must produce for 90 minutes, not just when he wants. For large parts of the season, he's found the anonymity that Ryan Giggs has been looking for at great expense (but without much success!). Three lung-bursting runs a game is not enough as far as I'm concerned - 7
A. Johnson - So effective coming off the bench in the latter stages of a game, where his pace, trickery and direct approach can take advantage of tired legs. Crucial goal at home to Newcastle to secure the win, and a couple of other nicely taken finishes. However, when he starts, he poses a threat for five minutes and then fades away. Must work on making a sustained impact when given the chance, otherwise he will remain a good substitute to have and nothing more - 6.5
Silva - The Spaniard is an absolute delight to watch and it has been a privilege to see him at first hand this season. His control of the ball, dribbling ability and link up play is sensational, and his workrate has been a pleasant surprise. The fact that he was many people's choice for player of the season in his first campaign in this league says it all. Only downside has been his lack of confidence in front of goal, but otherwise has been a joy - 8.5
Also played: Chris Chantler: Appeared as a last minute substitute away at Juventus in the Europa League to make his debut. Can't see a future for him at the club.
Do you agree with those ratings? How would you assess the performances of our midfielders this season?