14 Apr
Twelve years ago, it was Gillingham at Wembley. Now it is Manchester United. And strangely enough, the Gillingham game was far more important. Languishing in the third tier of English football, we needed that victory for the future of Man City. A defeat in that match and City as we know it would most likely not be here today. Now, we're playing in a semi-final of the FA Cup against one of the best sides in the world.
That is a measure of just how far we have come in such a short space of time. From Crooks to Kompany and Taylor to Tévez, we are now able to challenge for trophies. 35 years may have passed since our last major success, but that wait will soon end. It may not be this year, but rest assured, it will be very soon. This game is important, but a sense of perspective is needed. Just remember how important that Gillingham game was.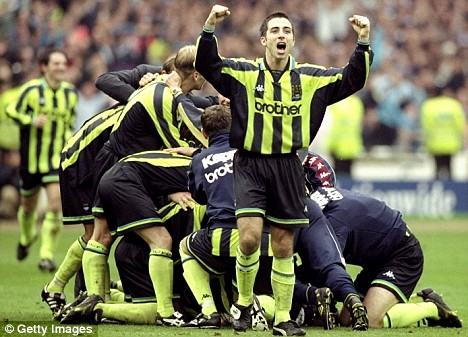 But time to focus on this game. After receiving plenty of criticism for his team selection against Liverpool, where he rested David Silva and Nigel de Jong, Roberto Mancini has some tricky decisions. That duo will undoubtedly return, adding creativity and solidity respectively, whilst Micah Richards has handed the manager a major boost by returning to fitness. He should return at right-back with Pablo Zabaleta replacing Aleks Kolarov on the left.
In the middle, I would expect Mancini to go with his tried and trusted trio of De Jong, Gareth Barry and Yaya Touré. However, it is slightly further up the field where the boss faces his trickiest selection. Devoid of the services of Carlos Tévez, Mancini will play just one up front, this likely to be the mercurial Mario Balotelli. He will be supported on one side by Silva, whilst I'd expect James Milner's workrate to get him the nod ahead of Adam Johnson and SWP.
Thus, this is the team I think Mancini will select: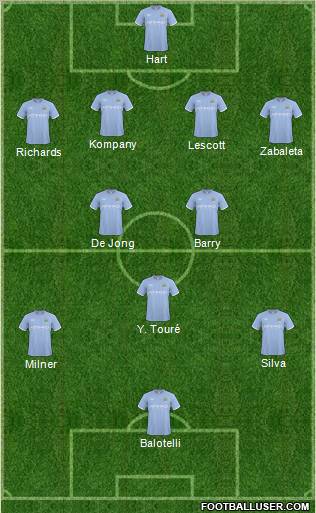 As much as I detest Manchester United, and as much as it pains me to say this, they have been playing some wonderful football of late. Their counter-attacking play is something that we can learn from,  and the pace with which they break is what we lack. As is their winning mentality and desire to win at all costs. But they're not invincible.
Javier Hernandez has taken the Premier League by storm and is a natural goalscorer, but with Wayne Rooney absent, I expect United to play just one up front. That could well be Dimitar Berbatov and I'd rather he faced our defence than the 'Little Pea'. Their defence is, for the most part, as solid as you get, but remain susceptible to pace, which Balotelli has in abundance.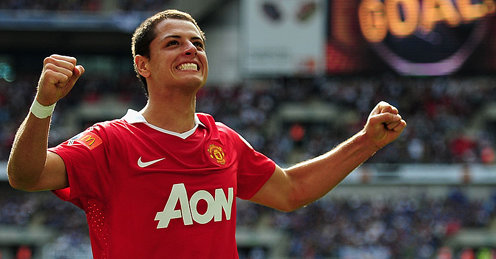 Key Battle
David Silva v Michael Carrick
Carrick hasn't had the best of seasons, but performed admirably in the games against Chelsea. He likes to operate from deep, is controlled in possession and keeps United ticking in the centre of the park. For City, Silva is the one players who gets us playing. His presence in the side brings with it composure and creativity. He will nominally be on the left, but will drift all over, looking to get involved at all times. Whichever of these two passing maestros influences the game more may well determine the winner.
Referee: Mike Dean – Expect a penalty at some point. As good an official as Dean is, and he's clearly rated highly by the Premier League, he has a penchant for penalties. He will need to be firm but fair.
Prediction: MAN CITY 1 – 2 Man Utd – After seeing both sides performances in the past week, I'm less confident than ever. But as the saying goes, in a derby form goes out of the window. We are more than capable of scoring and keeping things tight, but I have that nagging feel that United will beat us again. Narrow, nerve-wracking and ultimately disappointing.