6 Aug
With the European Championships being played during the summer, it meant that many established stars returned late to pre-season. That handed an opportunity to a number of youngsters to impress both in training and during games and it has been pleasing to see plenty grasp their chances. The hope is that a few of these Academy graduates, some of whom have already tasted first-team football, benefit from the experience and start to challenge for a regular spot. Here, I assess how some of those City youngsters fared in pre-season.
Karim Rekik: Ever since joining the Blues, the Dutch defender stood out as a hugely promising talent, his calmness and composure rarely seen in such a young player. Last season, he made his debut in the Carling Cup at the age of sixteen and spent the last couple of months of the season on loan to Portsmouth where he impressed both in the heart of the defence and also at leftback. During pre-season, he has featured a couple of times alongside Vincent Kompany, not looking out of place at all, and it seems as if he will soon mature into an outstanding young defender. A season-long loan may be the way forward for Rekik this year, giving him the opportunity of regular football at a strong level, and he is most definitely one to keep an eye on for the future.
Jeremy Hélan: A powerful French leftback, Hélan controversially signed for City from Rennes in 2009 and has built a reputation in the EDS as a rampaging fullback, adept at bombing on with his pace, but lacking defensive discipline. In many regards, he is similar to Micah Richards, such is his speed and power when advancing, but Hélan is still, understandably, raw and has only featured a couple of times as a substitute during pre-season. I'd expect him to be sent out on loan at some point in the season.
Abdul Razak: The nineteen year old Ivorian has arguably been the youngster who has impressed the most in pre-season and has thrown his name into the mix for a place in the first team squad. He made his debut in February 2011 and featured prominently in last season's Carling Cup run, before being shipped out on loan to Portsmouth and Brighton. There were rumours at the latter that he was rather too fond of a party and less focused on his football than he ought to have been, but he returned to City and has worked hard in pre-season in a defensive midfield role. Although his passing is a touch careless on occasions, his strength and tenacity in breaking up the play has been noticeable and with Gareth Barry still missing through injury, Razak has done all he could have to send a message to Roberto Mancini.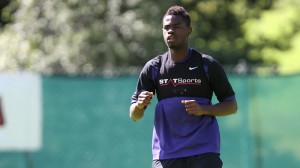 George Evans: A local midfielder who has been with the club since an early age, Evans was a late addition to the squad that travelled to Austria. Despite only appearing as a late substitute on that tour, he clearly made an impression on the coaching staff and he was given another couple of opportunities in Asia, where his range of passing from midfield immediately caught the eye. Whether in keeping it simple or spreading the play from one side of the pitch to the other, Evans fitted in well and although it is premature to expect him to challenge for a first-team berth, he is one to watch.
Rony (Marcos) Lopes: Drafted in to the squad that travelled to Austria due to Gareth Barry's injury, Lopes impressed, showing maturity beyond his sixteen years, and his ability in possession along with his willingness to get stuck in stood out. Given the name Marcos, but called Rony by his friends because he used to turn up to training in Portugal wearing a Brazilian shirt with Ronaldo on the back, Lopes has featured more than expected in pre-season and will now hope to star for the EDS as he continue to catch the eye.
Denis Suarez: A hugely promising creative midfielder, Suarez is often the player fans talk about when mentioning youngsters. Comparisons have been made in the past with David Silva, such is the control, poise and passing ability of the two, and Suarez, who only joined up with the squad after helping Spain to win the 2012 UEFA European Under-19 Football Championship, has sparkled, especially yesterday against Limerick. They were admittedly a poor opponent, but Suarez's ability to dictate the game was remarkable and his eye for a pass will have been noted. Whether he goes out on loan or stays with the squad remains to be seen but he is arguably the most talented of the youngsters and the one of whom the fans expect the most.